Skip to content
COVID-19 technologies
Examining new data practices and emerging technologies in response to COVID-19
The COVID-19 pandemic has changed our societies, global finance, health systems, employment and state services. It the rush to understand and control the virus, as well as manage and mitigate its effects, new uses of data and emergent technologies have been developed at pace.
The grave threat posed by the virus has meant societies have accepted an unprecedented incursion of liberty and rights in the face of a clear social need. We've explored the conditions for the legitimacy of these new technologies through a rapid, online public deliberation, held during the first lockdown.
In addition, we have undertaken rapid and rolling research and discussion events into the ethics and efficacy of contact tracing, 'immunity' and vaccine passports and symptom trackers, as well as monitoring their emergence, uptake and regulation around the world.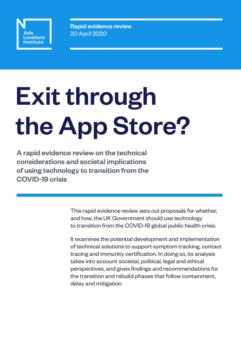 Exit through the App Store?
COVID-19 rapid evidence review