Skip to content
Report
Health data and COVID-19 tech
Checkpoints for vaccine passports: Background
Requirements that governments and developers will need to deliver in order for any vaccine passport system to deliver societal benefit
10 May 2021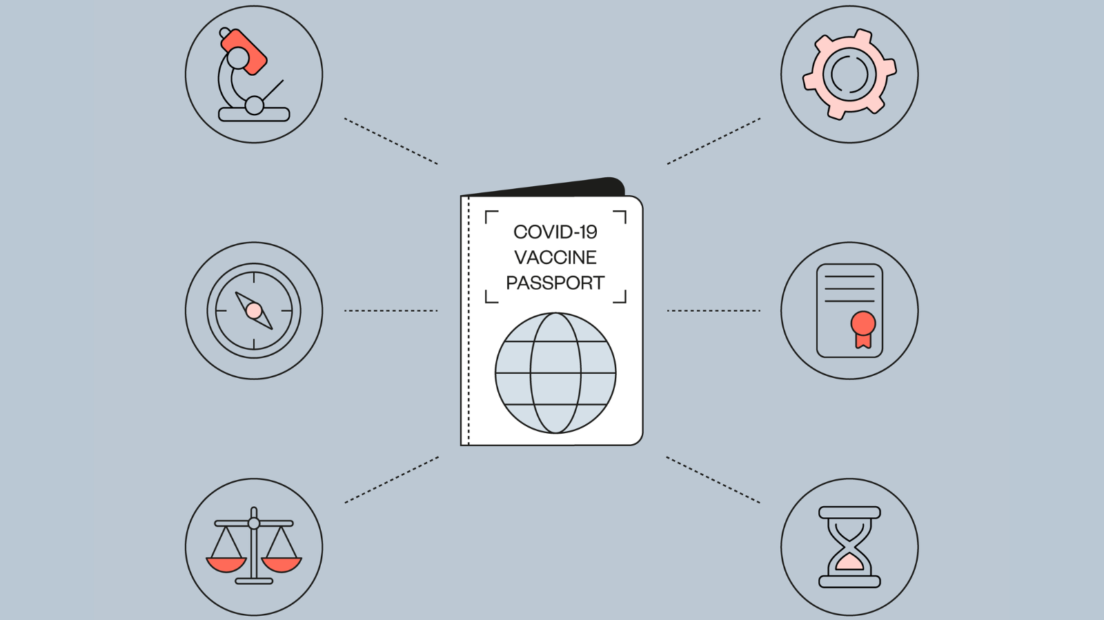 The rapid development and roll-out of vaccines to protect people from COVID-19 has prompted debate about digital 'vaccine passports'.
Digital vaccine passports are novel technologies, built on uncertain and evolving science. By creating infrastructure for segregation and risk scoring at an individual level, and enabling third-parties to access health information, they bring profound risks to individual rights and concepts of equity in society.
The current vaccine passport debate is complex, encompassing a range of different proposed design choices, uses and contexts, as well as posing high-level and generalised trade-offs, which are impossible to quantify given the current evidence base, or false choices that obstruct understanding (e.g. 'saving lives vs privacy'). Meanwhile, policymakers supporting these strategies, and companies developing and marketing these technological solutions, make a compelling and simplistic pitch that these tools can help societies open up safer and sooner.
This study disentangles those debates to identity the important issues, outstanding questions and tests that any government should consider in weighing whether to permit this type of tool to be used within society. It aims to support governments and developers to work through the necessary steps to examine the evidence available, understand the design choices and the societal impacts, and assess whether a roll-out of vaccine passports could navigate risks to play a socially beneficial role.
This report presents the key debates, evidence and common questions under six subject headings. These are further distilled in this summary into six requirements that governments and developers will need to deliver, to ensure any vaccine passport scheme builds from a secure scientific foundation, understands the full context of its specific sociotechnical system, and mitigates some of the biggest risks and harms through law and policy. In other words, a roadmap for a vaccine passport system that delivers societal benefit. These are:
The six requirements are:
Scientific confidence in the impact on public health
Clear, specific and delimited purpose
Ethical consideration and clear legal guidance about permitted and restricted uses, and mechanisms to support rights and redress and tackle illegal use
Sociotechnical system design, including operational infrastructure
Public legitimacy
Protection against future risks and mitigation strategies for global harms.
As evidence, explanation and clarification of a complex policy area, we hope this report helps all actors navigate the necessary decision making prior to adoption and use of vaccine passports. By setting out the features to be delivered across the whole system, the benefits and risks to be weighed, and the harms to be mitigated, we hope to support governments to calculate whether they can be justified, or whether investment in vaccine passports might prove to be a technological distraction from the central goal to reopen societies safely and equitably: global vaccination.
Checkpoints for vaccine passports
The text of the paper is split across the various articles linked below. Readers can browse in any order. To download the full report as a PDF, use the button below.
Array
(
    [s] => 
    [posts_per_page] => 12
    [meta_key] => sb_post_date
    [order] => DESC
    [orderby] => meta_value
    [paged] => 1
    [post_type] => Array
        (
            [0] => blog-post
            [1] => case-study
            [2] => evidence-review
            [3] => feature
            [4] => job
            [5] => media
            [6] => news
            [7] => press-release
            [8] => project
            [9] => report
            [10] => summary
            [11] => survey
            [12] => toolkit
            [13] => event
            [14] => person
        )

)

This report is the result of an international call for evidence, an expert deliberation, and months of monitoring the debate and development of COVID status certification and vaccine passport systems around the world. We have reviewed evidence and discussion on technical build, risks, concerns and opportunities put forward by governments, supranational bodies, collectives, companies, developers, experts and third-sector organisations.
We are indebted to the many experts and organisations who contributed evidence, spoke at events and briefings, demonstrated tools, and took part in the expert deliberation. We'd especially like to thank Professor Sir Jonathan Montgomery for chairing the expert deliberation, and Gavin Freeguard who has made substantial contributions as a consultant to delivering this project.
This project has been supported by the European AI Fund, a collaborative initiative of the Network of European Foundations (NEF). The sole responsibility for the project lies with the organiser(s) and the content may not necessarily reflect the positions of European AI Fund, NEF or European AI Fund's Partner Foundations.
Participants in the expert deliberation:
Sir Jonathan Montgomery (chair) is Professor of Health Care Law at University College London and Chair of Oxford University Hospitals NHSFT. He was previously Chair of the Nuffield Council on Bioethics and Chair of the Health Research Authority.
Professor Danny Altmann is Professor of Immunology at Imperial College London, where he heads a lab at the Hammersmith Hospital Campus. He was previously Editor-in-Chief of the British Society for Immunology's 'Immunology' journal and is an Associate Editor at 'Vaccine' and at 'Frontiers in Immunology.'
Professor Dave Archard is Emeritus Professor of Philosophy at Queen's University Belfast. He is also Chair of the Nuffield Council on Bioethics, a member of the Clinical Ethics Committee at Great Ormond Street Hospital and Honorary Vice-President of the Society for Applied Philosophy.
Dr Ana Beduschi is an Associate Professor of Law at Exeter University. She currently leads the UKRI ESRC-funded project on COVID-19: Human Rights Implications of Digital Certificates for Health Status Verification. Professor Sanjoy Bhattacharya is Professor in the History of Medicine, Director of the Centre for Global Health Histories and Director of the WHO
Collaborating Centre for Global Health Histories at the University of York
Dr Sarah Chan is a Chancellor's Fellow and Reader in Bioethics at the Usher Institute, University of Edinburgh. She is also Deputy Director of the Mason Institute for Medicine, Life Sciences and Law, a Associate Director of the Centre for Biomedicine, Self and Society and a member of the Genomics England Ethics Advisory Committee.
Dr Tracey Chantler is Assistant Professor of Public Health Evaluation & Medical Anthropology at the London School of Hygiene and Tropical Medicine. She is also a member of the Immunisation Health Protection Research Unit, a collaborative research group involving Public Health England and LSHTM.
Professor Robert Dingwall is Professor of Sociology at Nottingham Trent University. He is also a Fellow of the Academy of Social Sciences and a member of the Faculty of Public Health. He sits on several government advisory committees, including NERVTAG (New and Emerging Respiratory Virus Threats Advisory Group) and the JCVI (Joint Committee on Vaccination and Immunisation) sub-committee on Covid-19.
Professor Amy Fairchild is Dean and Professor at the College of Public Health, Ohio State University. She is also Co-Director of the World Health Organization Collaborating Center for Bioethics at Columbia's Center for the History and Ethics of Public Health.
Dr Matteo Galizzi is Associate Professor of Behavioural Science at the London School of Economics. He is also Co-Director of LSE Behavioural Lab and coordinates the Behavioural Experiments in Health Network and the Data Linking Initiative in Behavioural Science.
Professor Michael Parker is Director of the Wellcome Centre for Ethics and Humanities and Director of the Ethox Centre at the University of Oxford. He is also a member of the Government's Scientific Advisory Group for Emergencies, the Chair of the Genomics England Ethics Advisory Committee and a non-executive director of Genomics England.
Dr Sobia Raza is a Senior Fellow at the Health Foundation within the Data Analytics team. She is also an Associate and previous Head of Science at the PHG Foundation.
Dr Peter Taylor is Director of Research at the Institute of Development Studies. He was previously the Director of Strategic Development at the International Development Research Centre.
Dr Carmela Troncoso is Assistant Professor, Security and Privacy Engineering Lab at the École Polytechnique Fédérale de Lausanne. She was a leading researcher on DP-3T and is also a member of the Swiss National COVID-19 Science Task Force's expert group on Digital Epidemiology.
Dr Edgar Whitley is Associate Professor of Information Systems at the London School of Economics. He is co-chair of the UK Cabinet Office Privacy and Consumer Advisory Group and was the research coordinator of the LSE Identity Project on the UK's proposals to introduce biometric identity cards.
Dr James Wilson is Professor of Philosophy and Co-Director of the Health Humanities Centre at University College London. He is also an Associate editor of Public Health Ethics and Member of the National Data Guardian's Panel and Steering Group.
The following individuals and organisations responded to our open call for evidence:
Access Now
Ally Smith
Dr Baobao Zhang, Cornell University
BLOK BioScience International
Dr Btihaj Ajana, King's College London
Consult Hyperion
The COVID-19 Credentials Initiative, Linux Foundation Public Health
Professor Derek McAuley, Professor Richard Hyde and Dr Jiahong
Chen, Horizon Digital Economy Research Institute, University of
Nottingham
Dr Dinesh V Gunasekeran, National University of Singapore
eHealthVisa
The Electronic Frontiers Foundation
James Edwards
Professor Julian Savulescu and Dr Rebecca Brown, Oxford Uehiro
Centre for Practical Ethics, University of Oxford
Marcia Fletcher
medConfidential
The PathCheck Foundation
Patrick Gracey, Patrick Gracey Productions Ltd
Robert Seddon
SICPA
Susan Mayhew
techUK
The Tony Blair Institute for Global Change
The UK Pandemic Ethics Accelerator
Yoti
ZAKA
Zebra Technologies