Skip to content
Ada in Europe
We examine how existing and emerging regulation in the EU strengthens, supports or challenges interests of people and society – locally and globally.
As part of its 'Digital Decade' goal, the European Union has set out to regulate the different key elements of the digital age, from Artificial Intelligence to online platforms. The emerging legislative approaches will have profound impacts on the use and experience of data and AI in Europe, and those that seek to operate in the region.
Following the model of the GDPR, it's likely that these regulatory approaches will have influence beyond the EU – and may even become global standards. The EU AI Act, for example, is the first comprehensive attempt to regulate these technologies. 
Our Brussels office aims to understand how these developments affect the future of global regulation. To connect with our European Public Policy Lead, email Connor Dunlop.
Ada's approach
We aim to consider how the interests of people and society are met by emerging and existing EU regulation and to shape relevant legislative processes. To do this, we will provide evidence-based research, including technical research to explore accountability mechanisms in practice, and piloting and evaluation projects, bringing together different disciplinary perspectives and engaging with the public to deliberate on the use of data and AI. 
Our work on European policy is partially responsive, undertaking ongoing convening and commissioning, but we also have three substantive priorities for policy research.
1. The EU AI Act
We undertake convening, policy analysis and engagement on the AI Act. See our explainer, policy briefing and expert opinion from Professor Lilian Edwards.

In the first half of 2022 we undertook further research on issues of AI regulation, with deep dives into AI and labour; emotion recognition and general-purpose AI; technical mandates and standards, as well as exploring alternative global modes for governance. See our Future of Regulation programme for further details.
Our three-year programme on the governance of biometrics brings legal analysis and public deliberation to the issue of use, risks and safeguards.
2. Rethinking Data
This three-year programme reconsidered the narrative, uses and governance of data. The expert working group co-chaired by Professor Diane Coyle (Bennett Institute of Public Policy, Cambridge) and Paul Nemitz (Director, Principal Adviser on Justice Policy,  EU Commission, and Member of the German Data Ethics Commission), sought to answer a radical question:


What is a more ambitious vision for the future of data that extends the scope of what we think is possible?'
The final report was published in November 2022. See Rethinking Data.
3. Ethics and accountability in practice
We monitor, develop, pilot and evaluate mechanisms for public and private scrutiny and accountability of data and AI. This includes our report on technical methods for auditing algorithmic systems, a collaboration with AI Now and the Open Government Partnership which surveyed algorithmic accountability policy mechanisms in the public sector, and a pilot of algorithmic impact assessments (AIAs) in healthcare. See the programme page for further details.
---
Image credit: DKosig
Array
(
    [s] => 
    [posts_per_page] => 12
    [meta_key] => sb_post_date
    [order] => DESC
    [orderby] => meta_value
    [paged] => 1
    [post_type] => Array
        (
            [0] => blog-post
        )

    [tax_query] => Array
        (
            [0] => Array
                (
                    [taxonomy] => keywords
                    [field] => slug
                    [terms] => Array
                        (
                            [0] => just-ai
                        )

                )

        )

)

Array
(
    [s] => 
    [posts_per_page] => 2
    [meta_key] => sb_post_date
    [order] => DESC
    [orderby] => meta_value
    [paged] => 1
    [post_type] => Array
        (
            [0] => event
        )

    [tax_query] => Array
        (
            [0] => Array
                (
                    [taxonomy] => keywords
                    [field] => slug
                    [terms] => Array
                        (
                            [0] => europe
                        )

                )

        )

)

Upcoming and previous events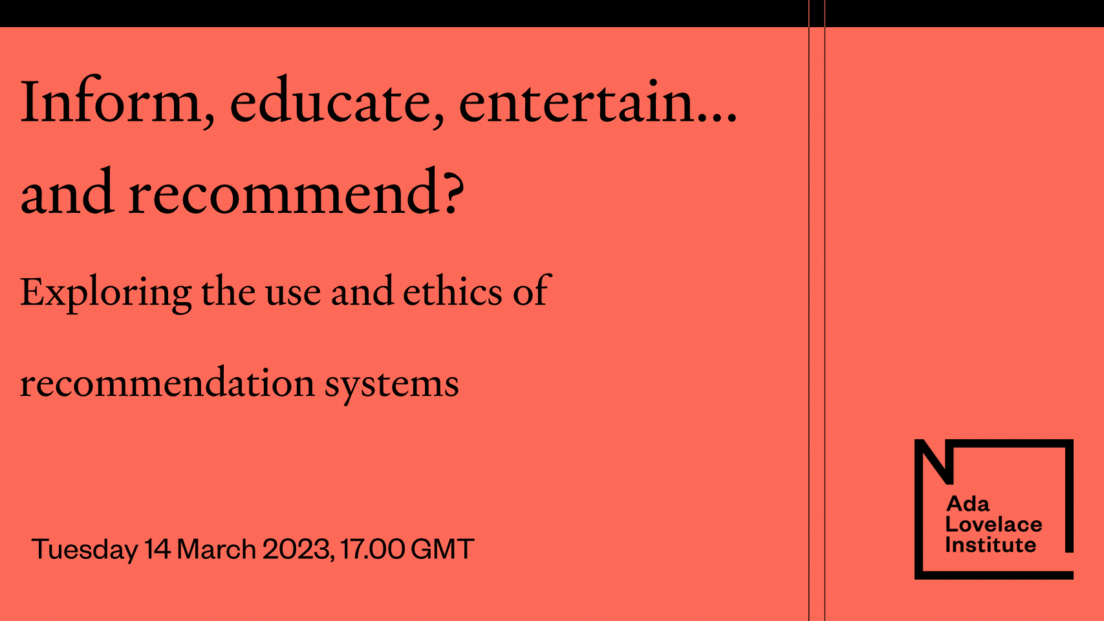 Event
Exploring the use and ethics of recommendation systems in public service media