Skip to content
Summary
Data for the public good
Exploring legal mechanisms for data stewardship
The executive summary for a joint publication with the AI Council, which explores three legal mechanisms for responsible data stewardship
4 March 2021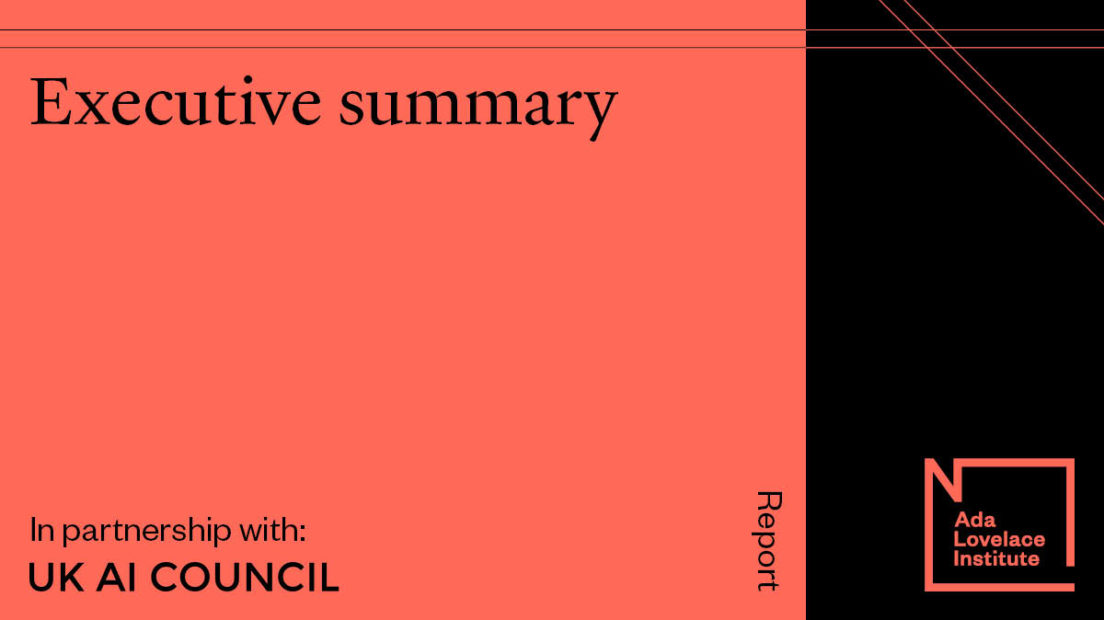 Organisations, governments and citizen-driven initiatives around the world aspire to use data to tackle major societal and economic problems, such as combating the
COVID-19 pandemic. Realising the potential of data for social good is not an easy task, and from the outset efforts must be made to develop methods for the responsible
management of data on behalf of individuals and groups.
Widespread misuse of personal data, exemplified by repeated high-profile data breaches and sharing scandals, has resulted in 'tenuous' public trust1 in public and private-sector data sharing. Concentration of power and market dominance, based on extractive data practices from a few technological players, both entrench public concern about data use and impede data sharing and access in the public interest. The lack of transparency and scrutiny around public-private partnerships add additional layers of concerns when it comes to how data is used.2 Part of these concerns comes from the fact that what individuals might consider to be 'good' is different to how those who process data may define it, especially if individuals have no say in that definition.
The challenges of the twenty-first century demand new data governance models for collectives, governments and organisations that allow data to be shared for individual and public benefit in a responsible way, while managing the harms that may emerge.
This work explores the legal mechanisms that could help to facilitate responsible data stewardship. It offers opportunities for shifting power imbalances through breaking data silos and allowing different levels of participatory data governance,3 and for enabling the responsible management of data in data-sharing initiatives by individuals, organisations and governments wanting to achieve societal, economic and environmental goals.
This report focuses on personal data management, as the most common type of data stewarded today in alternative data governance models.4 It points out where mechanisms are suited for non-personal data management and sees this area as requiring future exploration. The jurisdictional focus is mainly on UK law, however this report also introduces a section on EU legislative developments on data sharing and, where appropriate, indicates similarities with civil law systems (for example, fiduciary obligations resembling trust law mechanisms).
Produced by a working group of legal, technical and policy experts, this report describes three legal mechanisms which could help collectives, organisations and governments create flexible governance responses to different elements of today's data governance challenges.
These may, for example, empower data subjects to more easily control decisions made about their data by setting clear boundaries on data use, assist in promoting desirable uses, increase confidence among organisations to share data or inject a new democratic element into data policy.
Data trusts,5 data cooperatives and corporate and contractual mechanisms can all be powerful mechanisms in the data-governance toolbox. There's no one-size-fits-all
solution and choosing the type of governance mechanism will depend on a number of factors.
Some of the most important factors are purpose and benefits. Coming together around an agreed purpose is the critical starting point, and one which will subsequently determine the benefits and drive the nature of the relationship between the actors involved in a data-sharing initiative. These actors may include individuals, organisations and governments although
data-sharing structures do not necessarily need to include all actors mentioned.
The legal mechanisms presented in this report aim to facilitate this relationship, however the broader range of collective action and coordination mechanisms to address data challenges also need to be assessed on a case-by-case basis. The three mechanisms described here are meant to provide an indication as to the types of approaches, conditions and legal tools that can be employed to solve questions around responsible data sharing and governance.
To demonstrate briefly how purpose can be linked to the choice of legal tools:
Data trusts create a vehicle for individuals to state their aspirations for data use and mandate a trustee to pursue these aspirations.6 Data trusts can be built with a highly participatory structure in mind, requiring systematic input from the individuals that set up the data trust. It's also possible to build data trusts with the intention to delegate to the data trustee the responsibility to determine what type of data processing is to the beneficiaries' interest.
The distinctive elements of this model are the role of the trustee, who bears a fiduciary duty in exercising data rights (or the beneficial interest in those rights) on behalf of the beneficiaries, and the role of the overseeing court in providing additional safeguards. Therefore, data trusts might work better in contexts where individuals and groups wish to define the terms of data use by creating a new institution (a trust) to steward data on their behalf, by representing them in negotiations about data use.
Data cooperatives can be considered when individuals want to voluntarily pool data resources and repurpose the data in the interests of those it represents. Therefore, data cooperatives could be the go-to governance mechanism when relationships are formed between peers or like-minded people who join forces to collectively steward their data and create one voice
in relation to a company or institution.
Corporate and contractual mechanisms can be used to design an ecosystem of trust in situations where a group of organisations see benefits in sharing data under mutually agreed terms and in a controlled way. This means these mechanisms might be better suited for creating data-sharing relationships between organisations. The involvement of an independent data steward is envisaged as a means of creating a trusted environment for stakeholders to feel comfortable sharing data with other parties, who they may not know or have had an opportunity to develop a relationship of trust.
This report captures the leading thinking on an emerging and timely issue of research and inquiry: how we can give tangible effect to the ideal of data stewardship: the trustworthy and responsible use and management of data.
Promoting and realising the responsible use of data is the primary objective of the Legal Mechanisms for Data Stewardship working group and the Ada Lovelace Institute, who produced this report, and who view this approach as critical to protecting the data rights of individuals and communities, and unlocking the benefits of data in a way that's fair, equitable and focused on social benefit.
Read chapter one from Exploring legal mechanisms for data stewardship, which makes the case for data trusts as alternative governance models that could tackle power asymmetries, and the exercise of data rights.