Skip to content
Feature
Data for the public good
Data cooperatives
Chapter two from Exploring legal mechanisms for data stewardship – a joint publication with the AI Council
4 March 2021
Reading time: 45 minutes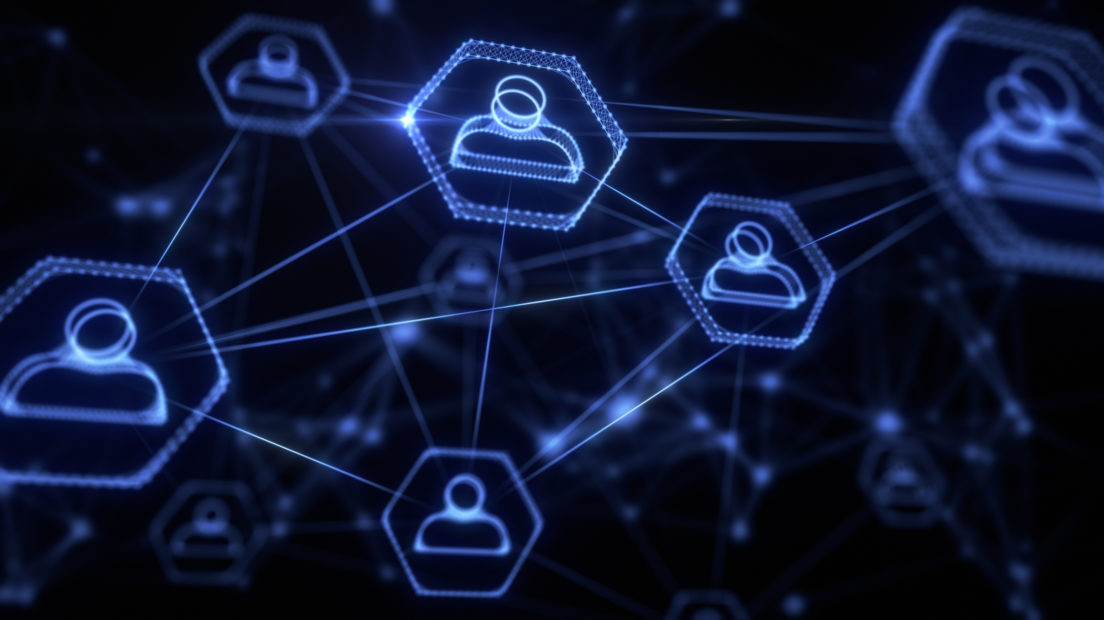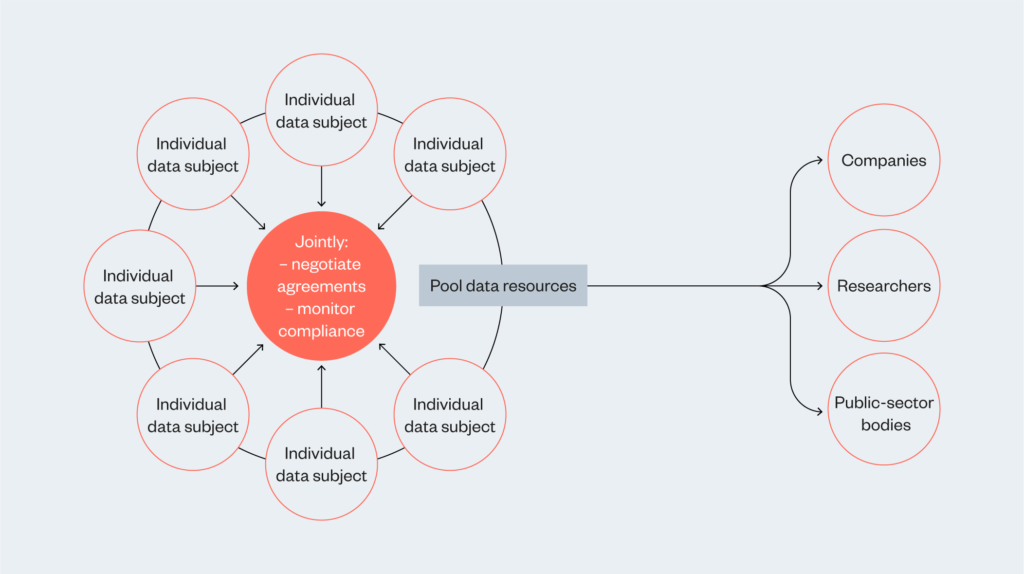 Exploring legal mechanisms for data stewardship
This is chapter two from a joint publication from the Ada Lovelace Institute and the AI Council.
Why data cooperatives?
The cooperative approach is attractive in situations where there is a desire to give members an equal stake in the organisation they establish and an equal say in its management, as for example with traditional mutuals – businesses owned by and run for the benefits of their members – which are common in financial services, such as building societies. As the business is owned and run by its members, the cooperative approach can be seen as a solution to a growing sense of powerlessness people feel over businesses and the economy.1
The cooperative approach in the context of data stewardship can be explored in examples where groups have voluntarily pooled data resources in a commonly owned enterprise, and where the stewardship of that data is a joint responsibility of the common owners. The aim of such enterprises is often to give members of the cooperative more control over their data and repurpose the data in the interests of those represented in it, as opposed to the erection of defensive restrictions around the use of data to prevent activities that conflict with the interests of data subjects (especially but not exclusively with respect to activities that threaten to breach their privacy). In other words, cooperatives tend to have a positive rather than a negative agenda, to achieve some goal held commonly by members, rather than to avoid some outcome resisted by them.
This chapter looks at some examples of data cooperatives, the problems and opportunities they address and patterns of data stewardship. It explores the structure and characteristics of cooperatives and provides a summary of the challenges presented by the cooperative model, together with descriptions of alternative approaches.
What is a cooperative?
A cooperative typically forms around a group that perceives itself as having collective interests, which it would be better to pursue jointly than individually. This may be because they have more bargaining power as a collective, because some kind of network effect means the value for all increases if resources are pooled, or simply because the members of the cooperative do not want to cede control of the assets to those outside the group. Cooperatives are typically formed to create benefits for members or to supply a need that was not being catered for by the market.
The International Cooperative Alliance or ICA2 is the global steward of the Statement on the Cooperative Identity, which defines a cooperative as an 'autonomous association of persons united voluntarily to meet their common economic, social, and cultural needs and aspirations through a jointly-owned and democratically controlled enterprise.'
According to the ICA there are an estimated three million cooperatives operating around the world,3 established to realise a vast array of economic, social and cultural needs and aspirations. Examples include:
Consumer cooperatives, which provide goods and services to their members/owners, and so serve the community of users. They value service and low price above profit, as well as being close to their customers. They might produce goods such as utilities, insurance or food, or services such as childcare.4 They might be 'buyers' clubs', intended to enable the amalgamation of buyers' power in order to reduce prices. Credit unions are also examples of consumer cooperatives, which mutualise loans based on social knowledge of local conditions and members' needs, and are owned by the members and therefore able to devote more capital to members' services rather than profits for external owners.5
Housing cooperatives take on a range of forms, from shared ownership of the entire asset to management of the leasehold or managing tenants' participation in decision-making.
Worker cooperatives, where the entity is owned and controlled by employees.
Agricultural cooperatives, which might be concerned with marketing, supply of goods or sharing of machinery on behalf of members. Many agricultural cooperatives in the US are of significant size: the largest, for example, had revenues of $32 billion in 2019.6 These cooperatives are formed to address a market power imbalance created by small producers and large distributors or buyers – power asymmetries that are also experienced by individuals in the data ecosystem.
The estimated three million cooperatives subscribe to a series of cooperative values and principles.7 Values typically include self-help,self-responsibility, democracy, equality, equity, solidarity, honesty and transparency, social responsibility and an ethics of care.8 Fundamental cooperative characteristics include: voluntary and open membership, democratic member control (one member, one vote), member benefit and economic participation (with surpluses shared on an equitable basis), and autonomy and independence.9
Cooperatives in the UK: characteristics and legal structures
According to Co-operatives UK10 there are more than 7,000 independent cooperatives in the UK, operating in all parts of the economy and collectively contributing £38.2 billion to the British economy.11
UK law does not provide a precise definition of a cooperative, nor is there a prescribed legal form that a cooperative must take. According to Co-operatives UK, a cooperative in the UK can generally be taken to be any organisation that meets the ICA's definition of a cooperative and espouses the cooperative values and principles set out in the Statement on the Cooperative Identity.12 This status can be implemented via many different unincorporated and incorporated legal forms. Deciding which one is best will depend on a number of case-specific factors, including the level of liability members are willing to expose themselves to, and the way members want the cooperative to be governed.
A possible, and seemingly obvious, choice of legal form is registering as a cooperative society under the Co-operative and Community Benefit Societies Act 2014.13 This Act consolidated a range of prior legislation and helped to clarify the legal form for cooperative societies in the UK (different rules apply for registration of a credit union under the Credit Unions Act 1979). Subsequent guidance from the Financial Conduct Authority (FCA) on registration, and the Charity Commission on share capital withdrawal allowances, have further clarified and codified the regulatory regime for cooperative societies. In particular, to register as a cooperative society under the Act, it must be a 'bona fide co-operative society'. The Act however does not precisely define what is included as a bona fide co-operative society. In its guidance, the FCA adopted the definition in the ICA's Statement on the Cooperative Identity and says it considers it an indicator that the condition for registration is met where the society puts the values from the ICA's Statement into practice through the principles set out in the Statement.14
The cooperative society form is widely used by all types of cooperatives. Registration under the 2014 Act imposes a level of governance through a society's rules and a level of transparency through certain reporting requirements that has some common ground with Companies Acts requirements for other types of organisations.
However, as noted above, this is not the only legal form available for a cooperative, and alternative legal forms that can be used include a private company limited by shares and a private company limited by guarantee. For a more detailed exploration of the options Co-operatives UK has published guidance,12 and has a 'Select-a-Structure' tool on its website.16
Cooperatives and data stewardship
For the purposes of this report we see data cooperatives as cooperative organisations (whatever their legal form) that have as their main purpose the stewardship of data for the benefit of their members, who are seen as individuals (or data subjects).17 This is in contrast to stewardship of data primarily or exclusively for the benefit of the community at large.
Under the Co-operative and Community Benefit Societies Act 2014,if the emphasis is to benefit a wider community then the appropriate legal form would be a community benefit society.
As for cooperative societies, other legal forms could also be used to achieve the same aims and deciding which is best will depend on a number of case-specific factors. However, that is not to say that a cooperative whose aim is to benefit its members might not also benefit wider society – we will see examples later (e.g. Salus Coop) where members' benefits are also intended to benefit wider society. Indeed, where members see the wider benefits as their own priorities (as with philanthropic giving), the distinction between members' benefits and social benefits may be hard to discern.
In a data cooperative, those responsible for stewarding the data act in the context of the collective interests of the members and – depending on how the cooperative is governed – may have to advance the interests of all members at once, and/or achieve consensus over whether an action is allowed.
The stewardship of data may be (and with increasing tech adoption is increasingly likely to be) a secondary function to the main purpose of a cooperative. For example, if the cooperative is enabled by technology, such as through the use of a social media platform, then it will routinely produce data that it may be able to capture. If so, this data might be of use to the cooperative's own operations in future. Some of these groups have been described as social machines.18
Examples of areas where valuable data may be produced are medical applications, interest groups, such as religious or political groups, fitness, wellbeing and self-help groups, particularly including the quantified self movement, and gaming groups. While questions around the management and use of data produced by cooperatives through their ordinary business will become increasingly important (as with other types of organisations that produce data as part of their business) this is not our focus here.
Data cooperatives versus data commons
In their collaborative, consensual form, data cooperatives are similar to data commons. A commons is a collective set of resources that may be: owned by no one; jointly owned but indivisible; or owned by an individual with others nevertheless having rights to usage (as with some types of common land). Management of a commons is typically informal, via agreed institutions and social norms.19
The distinction between commons and cooperatives is blurred; one possible marker is that a commons is an arrangement where the common resource is undivided, and the stakeholders all have equal rights, whereas in a cooperative, the resources may have been owned by the members and brought into the cooperative. The cooperative therefore grows or shrinks as resources are brought in or out as members join or leave, whereas the commons changes organically, and its stakeholders use but do not contribute directly to the resources.
In the case of data, the cooperative model would imply that data was brought to and withdrawn from the cooperative as members joined and left. A data commons implies a body of data whose growth or decline would be independent of the identity and number of stakeholders.
The governance of commons can provide sustainable support for public goods,20 and data commons are often written and theorised about.21 However, as this report is focused on existing examples of practice, in this respect it is difficult to identify actual paradigms of data commons (either intended as such, or merely as institutions whose governance happens to meet Ostrom's principles).22 Hence, while data commons may possibly be an exciting way forward, and while there are indeed some domains where a commons approach might be appropriate (such as OpenStreetMap and Wikidata), the prospects of their emergence from the complex legal position surrounding data at the time of writing are not strong, so will not be discussed further in this report.
Examples of cooperatives as stewards of data
For the purpose of this report, data cooperatives are seen as cooperative organisations (irrespective of their legal form) that have as their main purpose the stewardship of data for the benefit of its members. This section focuses on examples from the data cooperative space, sharing remarks on governance, approach to data rights and sustainability. Although they take different legal forms (particularly as they are not all UK-based projects) all are working along broadly cooperative principles.
1. Salus Coop
Salus Coop is a non-profit data cooperative for health research (referring not only to health data, but also lifestyle-related data more broadly, such as data that captures the number of steps a person takes in a day), founded in Barcelona by members of the public in September 2017. It set out to create a citizen-driven model of collaborative governance and management of health data 'to legitimize citizens' rights to control their own health records while facilitating data sharing to accelerate research innovation in healthcare'.23
Governance: Salus have developed a 'common good data license for health research' together with citizens through a crowd-design mechanism,24 which it describes as the first health data-sharing license. The Salus CG license applies to data that members donate and specifies the conditions that any research projects seeking to use the member data must adhere to.25 The conditions are:
health only: the data will only be used for biomedical research activities and health and/or social studies
non-commercial: research projects will be promoted by entities of general interest, such as public institutions, universities and foundations
shared results: all research results will be accessible at no cost maximum privacy: all data will be anonymised and unidentified before any use
total control: members can cancel or change the conditions of access to their data at any time.
Data rights: Individual members will have access to the data they've donated, but Salus will only permit third-party access to anonymised data. Salus describes itself as committed to ensuring, and requires researchers interacting with the data to ensure, that: individuals have the right to know under what conditions the data they've contributed will be used, for what uses, by which institutions, for how long and with what levels of anonymisation; individuals have the right to obtain the results of studies carried out with the use of data they've contributed openly and at no cost; and any technological architecture used allows individuals to know about and manage any data they contribute.
Note therefore that Salus meets the definition of a data cooperative, as it provides clear and specified benefits for its members – specifically a set of powers, rights and constraints over the use of their personal health data – in such a way as to also benefit the wider community by providing data for health research. Some of these powers and rights would be provided by GDPR, but Salus is committed to providing them to its members in a transparent and usable way.
Sustainability of the cooperative: Salus has run small-scale studies since 2016, and promotes itself as being about to generate 'better' data for research (in relation, for example, to surveys), creating 'new' datasets (such as heartbeat data generated through consumer wearables) and 'more' data than other approaches. However, the cooperative's approach to sustainability is unclear. In June 2021, it aims to publicly launch CO3 (Cooperative COVID Cohort), a project stream to help COVID-19 research,26 and it aims to capture a fraction of the value generated by providing data for researchers to sustain itself.
2. Driver's Seat
Driver's Seat Cooperative LCA ('Driver's Seat')27 is a driver-owned cooperative incorporated in the USA in 2019,95 with ambitions to help unionise or collectivise the gig economy. It helps gig-economy workers gain access to work-related smartphone data and get insight from it:
it is 'committed to data democracy … [and] empowering gig workers and local governments
to make informed decisions with insights from their rideshare data.'
The Driver's Seat app, available only in the US, allows on-demand drivers to track the data they generate, and share it with the cooperative, which can then aggregate and analyse it to produce wider insights. These are fed back to members, enabling them to optimise their incomes. Driver's Seat Cooperative also collects and sells mobility insights to city agencies to enable them to make better transportation-planning decisions. According to the website, when 'the Driver's Seat Cooperative profits from insight sales, driver-owners receive dividends and share the wealth'.
One issue here, unexplored on the website, is that in the ride-hailing market, in geographically limited areas, drivers may indeed have common interests, but they are also in competition with each other for rides. Access to data could also open up job allocation to scrutiny, something that is concerning drivers in the UK, where a recent complaint against Uber has been brought by drivers who want to see how algorithms are used to determine their work, on the basis that this could be allowing discriminatory or unfair practices to go unchecked.28
Governance: Driver's Seat Cooperative is an LCA or Limited Cooperative Association in the US, so will be governed by the legislation and rules associated with this type of entity. It is not obvious from the website what the terms and conditions are for becoming a member of the cooperative and how it is democratically controlled.
Data rights: Driver's Seat is headquartered outside the jurisdiction of the GDPR. A detailed privacy notice sets out how Driver's Seat collects and processes personal data from its platform, which includes its website and the Driver's Seat app.29 By accessing or using the platform the user consents to the collection and processing of personal data according to this notice.
Sustainability of the cooperative: Driver's Seat is a very new cooperative and a graduate of the 2019 cohort of the start.coop accelerator programme in the US.30 PitchBook reports that it secured $300k angel investment in August 2020.31 According to its website, Driver's Seat sells mobility insights to city agencies, which is doubtless at least part of its plan for long-term sustainability. It is not obvious from the website if there is any further investment requirement from the driver-owners of the cooperative above and beyond sharing their data. The app itself is free.
3. The Good Data (now dissolved)
The Good Data Cooperative Limited ('The Good Data')32 was a cooperative registered in the UK that developed technology
to collect, pool, anonymise (where possible) and sell members' internet browsing data on their own terms, to correct the power imbalance between individuals and platforms (selling 'on fair terms').33 Members participated in The Good Data by donating their browsing data through this technology, so that the cooperative could trade with it anonymously enabling the cooperative to raise funds to cover costs and fund charities.34
As with Salus Coop, The Good Data provided benefits for members while simultaneously promising potential benefits for the wider community (and indeed many of those wider benefits would also be reasons for members to join).
Governance: The Good Data was registered as a cooperative society under the Co-operative and Community Benefit Societies Act 2014, and accordingly was subject to the requirements of that Act and had to be governed according to its rules filed with the FCA. The Good Data determined which consumers should receive the data, and made decisions about what to sell and how far to anonymise on a case-by-case basis. It declined to collect data from 'sensitive' browsing behaviour, which included looking at 'explicit' websites, as well as health-related and political sites.35 According to The Good Data's last annual return filed at the FCA,36 The Good Data had three directors. Members had online access to all relevant information and based on that could present ideas or comments in the online collaboration platform at any time. Members could also participate in improving existing services and an Annual General Meeting was held once a year.
Data rights: It is hard to say what rights were invoked here. If the data has been anonymised, it is no longer personal data under the GDPR. If the data is likely to be re-identifiable or to be attributed to an individual, then the data is pseudonymised (and thus still personal data).
Sustainability of the cooperative: Revenue was generated from the sale of anonymised data to data brokers and other advertising platforms, and the profits redistributed, to maintain the system, and for social lending in developing countries. Decisions about the latter were determined by cooperative members. However, the model proved not to be sustainable, as its website announces the dissolution of the cooperative: 'we thought that the best way to achieve our vision was by setting up a collaborative and not for profit initiative. But we failed to pass through the message and to attract enough members.' The Request to Cancel filed at the FCA37
also indicated that this was due to Google rejecting The Good Data's technology, which was intended to allow members to gain ownership of their browsing data from its Chrome Webstore, and being unable to build a new platform to pursue this objective given the required technical complexity and lack of sufficient human and financial resources.
Created with similar intentions, Streamr38 advocates for the concept of 'data unions' and seeks to create financial value for individuals by creating aggregate collections of data in a similar way, including focusing on web browser data – it's unclear whether this effort will prove more sustainable than The Good Data.
Problems and opportunities addressed by data cooperatives
From the examples surveyed above, data cooperatives appear mostly concerned with personal data (as opposed to non-personal data) and, in general, are directed towards giving members more control over data they generate, which in turn can be used to address existing problems (including social problems) or open up new opportunities. This is very much in line with the purpose of the cooperative model generally. For example, Salus Coop allows members to control the use of their health data, while opening up new opportunities for health research. The Good Data was aimed at giving data subjects more control and bargaining power with respect to data platforms, to get a better division of the economic benefits. Unionising initiatives, such as Driver's Seat, have focused largely but not exclusively on the gig economy, and using data to empower workers and enable them to optimise their incomes and working practices.
Many data cooperatives seek to repurpose existing data at the discretion of groups of people, to create new cooperatively governed data assets. In this respect, they tend to pursue a positive agenda that uses data as a resource. For example, Driver's Seat brings in data from sources such as rideshare platforms and sells mobility insights based on this data, sharing profits among members. The Good Data's business model was to trade anonymised internet browsing data. Some data cooperatives do also seek to refactor the relationship between organisations that hold data and individuals who have an interest in it. The Good Data's technology to collect internet browsing data was also designed to give members using it more privacy by blocking data trackers.
See also RadicalxChange's proposal in Annex 3, which contains elements of all three legal mechanisms presented in this report. Described as a conceptual model, it would shake up the status quo even more by making corporate access to data subject's data the cooperative decision of a Data Coalition.
Although privacy is usually a feature they respect, it is hard to find data cooperatives intending to preserve privacy as a first priority, through limiting the data that is collected and processed. Indeed, this is rather a negative aim, constraining the use of data, rather than pursuing a positive agenda and opening up a new purpose for the data.
More often data anonymisation techniques and privacy-preserving technologies are referred to, however these areas require research and investment,39 especially given the legal uncertainty as to what it takes for companies to anonymise data in the light of the GDPR, and the complexity of the task of anonymisation itself, which requires a thorough understanding of the environment in which the data is held.40
Examples that we have surveyed could be said to recognise the balance between 1) complete privacy and 2) the potential benefits to the individual from collecting and processing personal data and communicating the insights to the individual, and 3) in those individuals then being able to better influence the market and receive a better division of the economic benefits (e.g. through selling the data and/or insights).
Challenges
The cooperative approach appeals to a sense of data democracy, participation and fair dealing that may inform and shape the structuring of any data-sharing platform but, in themselves, cooperatives face a number of challenges:
1. Uptake
While the examples we've analysed represent experimentation around data cooperatives, there doesn't appear to be significant uptake and use of them, and little evidence that they will scale to steward significant amounts of data within a particular geography or domain. This is perhaps unsurprising, given a number of challenges to uptake, as cooperatives require motivated individuals to come together and actively participate by:
recognising the significance of the problem a cooperative is trying to solve (resonance challenge)
being interested enough to find or engage with a data cooperative as a means to solve the problem (mobilisation challenge)
trusting a particular cooperative and its governance as the best place to steward data (trust challenge)
being data literate enough to understand the implications of different access permissions, and/or willing to devote time and effort to managing the process. Because cooperatives presume a role for voluntary members and rely on positive action to function, this is more likely to work in circumstances where all participants
are suitably motivated and willing to consent to the terms of participation (capacity challenge).
The examples surveyed offer some insights into how these elements of the uptake challenge could be met. A strong common incentive could be enough to meet the mobilisation challenge by employing bottom-up attempts to create data cooperatives. For example, Driver's Seat could use the interest and perceived injustice among gig-economy workers in their working conditions and pay to build an important worker-owned and controlled data asset. If endorsed or even delivered by trusted institutions such as labour unions this could further enhance uptake.
Other examples, such as The Good Data, were aiming to mobilise people around the concept of correcting a power imbalance between individuals and platforms. In a similar vein, the aim of the RadicalxChange model (discussed further in Annex 3) works at the level of power imbalance, with an added requirement for legislative change to make their data coalitions possible and reduce the market failure of data.41
Such a top-down approach could create challenges not too far removed from the issues that many data cooperatives seek to address, such as around the selected default sharing and processing options that the data would be subject to, and the abilities of people to opt-out or switch. Relying on individual buy-in for success may never move the needle, without more of a purpose or affiliation to coalesce around. Changing the world for the better is more abstract and often less motivating than changing one's particular corner of it for one's (and others') benefit.
These uptake challenges are not unique to cooperatives and are experienced by many other data-stewardship approaches that focus on empowering individuals in relation to their personal data. However, potentially, the features of a cooperative approach to data stewardship could themselves hinder the uptake and scalability of a data cooperative
initiative. These are discussed next.
2. Scale
There are additional features of cooperatives that may make this approach unsuitable for large-scale data-stewardship initiatives:
a. Democratic control and shared ownership
The cooperative model presumes shared ownership. The implied level of commitment may be an asset to the organisation, but may similarly make it hard for the model to scale if everyone wants their say.
The cooperative model also favours democratic control. Depending on how the cooperative is established and governed, the democratic control of cooperatives could be too high a burden for all but the most motivated individuals, limiting its ability to scale. Alternatively, where a cooperative has managed to scale, this approach could become too unwieldy for a cooperative to effectively carry out its business in a nimble and timely fashion.
Democracy and ownership also need to be balanced by a constitution. It may aim for equal say for members (one member, one vote), or alternatively it may skew democratic powers toward those members with more of a commitment (e.g. based on the amount of data donated).
Questions need to be resolved about what members vote for – particular policies, or simply for an executive board. Can the latter restriction, which will lead to more efficient decision-making, still enable individual members to feel the commitment to the cause that is needed to meet
the mobilisation challenge? If, on the other hand, members' votes feed directly into policy, can the cooperative sustain sufficient policy coherence to meet the trust challenge?
b. Rights, accountability and governance
To establish and enforce rights and obligations, a cooperative needs to be able to use additional contractual or corporate mechanisms, and this requires members to engage and understand their rights and obligations. This is particularly important where data is concerned, given legal duties under legislation such as the Data Protection Act 2018, which implements the GDPR in the UK.
Cooperatives can create a large audience of members who can demand accountability and these members may be exposed themselves to personal liability, with associated challenges to manage potential proliferation of claims and fear of unjust proceedings.
Cooperatives may establish high levels of fiduciary responsibility but do not inherently determine particular governance standards or establish clear management delegation and discretion. Registration under the Co-operative and Community Benefit Societies Act 2014
imposes a level of governance that partially echoes the greater body of legislation applicable to registered companies under the Companies Acts. Registration as a company under the Companies Acts will import a broader array of governance provisions.
With respect to data, governance is a particularly sensitive requirement, especially as a cooperative scales. If a cooperative ended up holding a large quantity of data, this may become extremely valuable as network effects kick in. The cooperative would certainly need a level of professionalism in its administration to prosper, especially if its mission required it to negotiate with large data consumers, such as social networks. Moreover, the overarching governance of the administrators of the cooperative would need to be addressed. For example, there could be a data cooperative board with each individual having ownership shares in the cooperative based on the data contributed (which in turn would need a quasi-contractual model to define the role of the board and its governance role regarding data use).
Failure of governance may also leave troves of data vulnerable, if the proper steps have not been taken. In one recent incident, a retail cooperative venture in Canada called Mountain Equipment Co-Op was sold to an American private-equity company from underneath its five million members, after years of poor financial performance (losing CAD$11 million in 2019), with the COVID-19 pandemic as the last straw. The board felt that the sale was the only alternative to liquidation, although the decision was likely to be challenged in court.42 This case throws up data issues specifically – does the buyer get access to data
about the members, for example? But the main point is that a data cooperative managing a large datastore effectively and securely might well have to endure significant costs (e.g. for security), and will need a commensurate income.
If that income could not be secured, could the cooperative members prevent the sale of the cooperative – and therefore the data – to a predator? Under UK law, the assets of a cooperative should be transferred, at least in some circumstances, to a 'similar' body or organisation with similar values if and when it is wound up. Sometimes even an asset lock can be involved under Community Interest Company law. The extent of legal restraint on the disposal of the assets of the cooperative will of course depend on how it is defined and incorporated, and the sensitivity of the data should be reflected in the care with which the fate of the data is constrained. There may be legal protections, but it is still worth pointing out that the very existence of the data cooperative, as a single point of access to the data, may represent a long-term vulnerability.
c. Financial sustainability
Cooperatives do not easily lend themselves to development funding other than grant aid or pure philanthropy. In combination with the mobilisation challenge this suggests financial sustainability is likely to be a significant issue.
One problem this creates for many cooperatives is that they have to fall back on internally generated resources (i.e. donated by the members). Without a substantial and sustainable income, a cooperative will find it difficult to recruit capable managers and administrators, and so will be forced to form committees selected from the membership. Without capable managers, a cooperative will be less able to generate income and manage resources effectively, and, for example, will be less able to raise external capital because of a low rate of expected return.
These factors constrain the scope for a cooperative to mature and operate in a commercial environment when compared with other models.
Mechanisms to address the challenges
The cooperative structure has longstanding heritage and diverse application, as demonstrated by the examples we have analysed, and ready appeal because of the inherent assumptions of common economic, social and cultural purpose. It is a natural mechanism by which an enterprise can be owned by people with a common purpose and managed for the benefit of those who supply and use shared services.
Recognising the challenges identified above that are inherent in a cooperative structure, we observe that cooperatives often rely on contract or incorporation to establish rights, obligations and governance, and either route might be selected as the preferred form while still
seeking to capture some of the essence of a cooperative through stated purpose, rights, obligations and oversight. However, neither is perfect – or, put another way, each, by diluting the cooperative ideal, may reintroduce some of the challenges that the cooperative model
was designed to address. These mechanisms are:
The contractual model, where all rules for the operation of the data platform should be set down in bilateral (or multilateral) agreements between data providers and data users. This, when combined with the fact that each party would need to take action on its own behalf to enforce the terms of these agreements against any counterparties,
imposes a burden on participants to negotiate agreements and encourages participants to negotiate specific terms. It therefore has limited utility and is restricted to relatively limited groups of participants of similar sophistication, and may be vulnerable to the mobilisation or the capacity challenge.
The corporate model, often adopted in the form of a company limited by guarantee to underpin a cooperative, to achieve what a contractual model offers with additional flexibility, scalability and stability that is lacking from that model. This model may run into the trust challenge, however. In conceptual terms, data providers are being
asked to give up a degree of control over the data they are providing in return for the inherent flexibility, scalability and stability of the structure. They will only do so if they feel they can trust the structure or organisation that has been set up to effect this, which can be offered via a combination of clear stated purpose of the institution, the
reporting and accountability obligations of its board and an additional layer of oversight by a guarantor constituted to reflect the character of participants and charged with a duty to review and enforce due performance by the board. In time that might be supplemented by a suitably constituted, Government-sponsored regulator.
Although there is currently no obstacle in the way of data cooperatives – the law is in place, the cooperative model well-established – we can see a number of challenges to uptake, growth, governance and sustainability. The problem is rendered doubly hard by the fact that some of the challenges pull in different directions. For instance, the capacity challenge might be met by a division of labour, hiving off certain decision-making and executive functions, but then this might lead to the emergence of the trust challenge as the board's decisions come under scrutiny. Failure to meet the mobilisation challenge could result in the members being as alienated from the stewardship of their data by the data cooperative as they were by other more remote corporate structures, but addressing the mobilisation challenge might lead to an
engaged set of members developing hard-to-meet expectations about the level of involvement they could aspire to, consistent with streamlined decision-making.
Mock case study: Greenfields High School
Greenfields High School and other educational facilities are interested in coordinating educational programs to meet the needs of their learners and communities in a way that complements and strengthens school programmes. All educational institutions use online educational tools to tailor learning plans for improving student performance and see a real opportunity to better serve their community through data sharing.
Greenfields High School proposes to the other educational boards to convene and explore the idea of pooling resources together for achieving these goals. They all have a shared interest in working together to gain better insights as to how they might improve educational outcomes for their community members.
In an act of good governance, educational facilities consult with their students, parents and teachers, and together they develop the rules and governance of the cooperative:
Members of the community vote on the collaborative agreement between
educational facilities and decide what data can be shared and for what
purposes. The agreement is transparent about what data is collected, stored,
processed and how it is used.
The schools gain better understanding of the effectiveness of online tools
and educational plans throughout the learning cycle.
Where educational programmes are developed for the community based
on analysed data, members also decide on the price thresholds for such
educational services.
How would a data cooperative work?
A data cooperative is set up, pulling together the data educational facilities have from using digital technologies. Schools maximise their aims in comparing performance and understanding what digital tools are more effective. Students have a direct say into how their data is used and decide on the management and organisation of the cooperative.
Chapter three: corporate and contractual mechanisms
The next chapter presents corporate and contractual mechanisms as a way to create a trusted environment for data sharing
Image credit: shulz
This is chapter two from Exploring legal mechanisms for data stewardship – a joint publication from the Ada Lovelace Institute and the AI Council. Read the full report here.