Establishing a multidisciplinary research base around 'just AI'
Our JUST AI programme is a network of researchers and practitioners, led by Dr Alison Powell from LSE, established in partnership with the Arts and Humanities Research Council (AHRC). The humanities-led network will build on research in AI ethics, orienting it around practical issues of social justice, distribution, governance and design, and seek to inform the development of policy and practice.
---
'Just AI' is AI that is ethical, works for the common good and is effectively governed and regulated. The JUST AI network will connect researchers and practitioners from across philosophy, law, media and communications, human-computer interaction, ethnography, user-centred design, data science, computer sciences and social sciences to:
Map the landscape and identify opportunities to join up research across disciplines.
Deliver a programme of activity including workshops, written and creative outputs and peer-reviewed articles.
Lay the foundations for future multidisciplinary research collaborations.
Research and debate about the ethical and social risks and impacts of data and AI is often focussed on either abstract principles such as fairness, transparency and rights, or on purely technical approaches. In establishing the network, the Ada Lovelace Institute and the AHRC aim to create a common infrastructure for collaboration across disciplines that will connect these approaches and identify ways to translate evidence into practical guidance, regulation and design.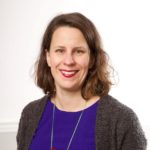 Dr Alison Powell will lead the JUST AI network, working closely with the Ada Lovelace Institute and the AHRC. Alison is Assistant Professor in the Department of Media and Communications at LSE, where she was the inaugural programme director for the Data & Society programme stream of its MSc Media and Communications.
The JUST AI network will operate for one year in the first instance.
---
Find out more
-> Recruitment for a postdoctoral research officer to support the network is open until 12 February 2020.
-> Read Dr Alison Powell's blog on bravery and creativity for ethics in practice.
-> Contact the JUST AI team