Skip to content
Virtual event
Black data matters: how missing data undermines equitable societies
We joined the CogXtra session on The Tech We Want: An Ethical Approach to Innovation.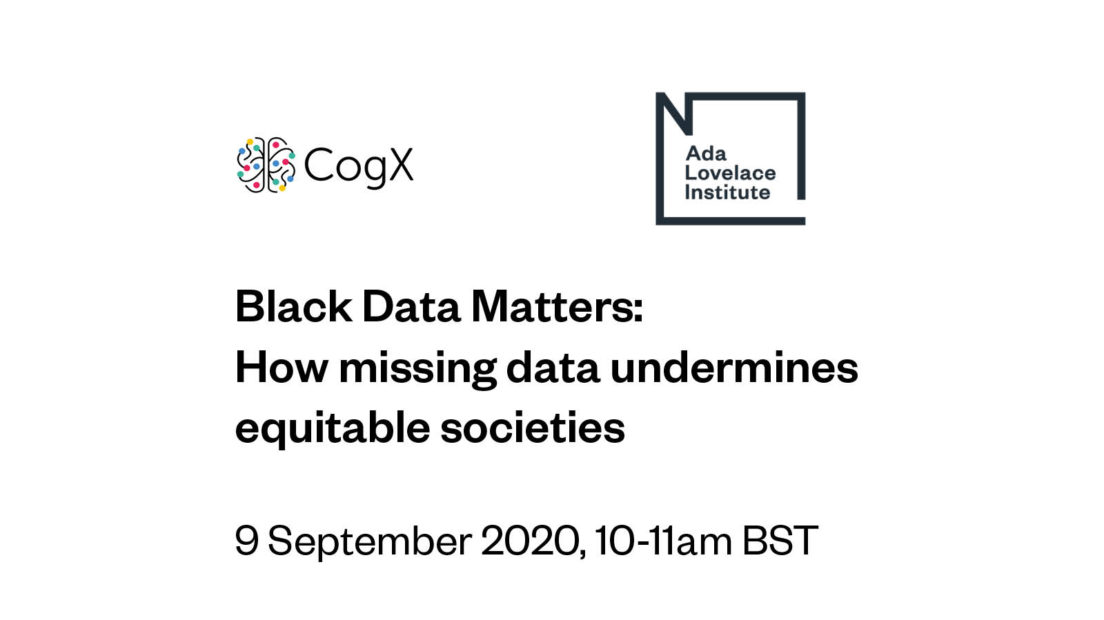 The Ada Lovelace Institute is delighted to join one of the first CogXtra sessions – a new weekly format by CogX providing members with single topic, half-day virtual events co-created with partners.
On Wednesday 9 September, we joined the CogXtra session on The Tech We Want: An Ethical Approach to Innovation to host a panel on Black Data Matters: how missing data undermines equitable societies.
Watch the session below:
About the Black Data Matters panel: 
Missing data matters: it can exacerbate inequalities on a societal scale. When that data is operationalised into algorithmic decision-making systems and AI, the social processes that produce racial inequality – mechanisms of power, economics, knowledge, culture and language – can be written into technologies with huge societal impacts.
Data has the potential to drive public good: the study of factors associated with COVID-19 mortality on the openSAFELY analytics platform shows the power of data to bring rapid insights and positive change to the pandemic response, and AI has accelerated drug testing in the hunt for a vaccine.
But missing and misused data can undermine the benefits data-driven technologies bring to society: the Public Health England report was unable to draw conclusions into disparities in deaths from COVID-19 because of gaps in data collection, and the recently withdrawn streaming algorithm used by the Home Office visa application system was designed not only to discriminate on the basis of nationality by 'red-flagging' countries but also to reinforce bias by weighting countries on the basis of previous visa rejections.
Beginning with the UK data landscape as it exists today, experts in race equality, decolonial theory, data and statistics, and data-driven technologies will interrogate missing data and its real-world effects. Shifting to a wider focus, the panel will apply these insights to consider the principles that should underpin data-driven technologies, their design and implementation, and how they can support rather than undermine an equitable society.
Questions include:
How do we establish shared understandings of social good in data and technology?
What is the right data to underpin an equitable society?
How do inequalities in data lead to unequal applications of data through technology?
By connecting missing or inadequate data on black lives in datasets with the outcomes of technological innovations that are built on that data, can we overcome biases in products and systems that affect Black, Asian and ethnic minority people?
Chair
Director

Ada Lovelace Institute
Panel
Dr Zubaida Haque

Interim Director, Runnymede Trust

Sir Ian Diamond Diamond

National Statistician and Head of the Government Statistical Service

Dr William Isaac Isaac

Senior Research Scientist, Ethics and Society Team, DeepMind