Skip to content
Case study
Exit through the App Store? Rapid evidence review
Our report has been influential in informing the policy response to using data-driven technologies to exit from COVID-19 emergency lockdown measures.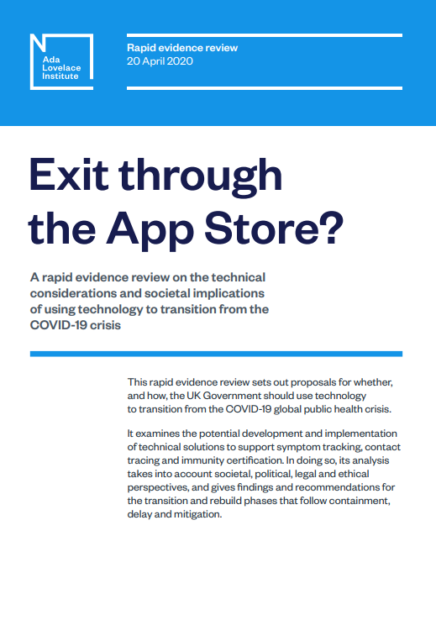 In April 2020, shortly after the start of the first national UK lockdown to contain the COVID-19 virus, the Ada Lovelace Institute convened an expert group to explore the technical considerations and societal implications of using technology to transition from lockdown.
A rapid evidence review published by the Ada Lovelace Institute sets out proposals for whether, and how, the UK Government and NHSX should use data-driven technologies to provide a safe, fair and equitable exit from COVID-19 emergency lockdown measures.
Policy impact
Policy-facing expert groups provide direction for emerging issues that require rapid synthesis, review and response. This method informed Ada's rapid evidence review of data-driven technologies to provide an exit from COVID-19 emergency lockdown measures – Exit Through the App Store? The report has been influential in informing the policy response:  
Darren Jones MP brought the report as evidence to the House of Commons Science and Technology Committee, when they considered the implications of proposed contact tracing apps

 

The report was referenced in the 

Biometrics Commissioner's statement on the use of symptom tracking applications,

 21 April 2020

 

The Information Commissioner's Office included the report as evidence in their report on COVID-related technologies

Carly Kind advised Michael Webb, joint Chief Economic Adviser to the Chancellor and Prime Minister, on algorithmic bias in relation to a proposed new post-COVID-19 digital markets policy initiative, 25 June 2020

 

An unofficial Whitehall source reported that the 'Exit through the App Store' rapid evidence review and associated summaries were being referenced in internal government strategy documents about T3C (test, track, and trace), and in ministers' briefing notes, 5

 May 2020

A media source reported that 'Exit through the App Store' was referenced in briefing documents presented to SAGE
Carly Kind joined an international roundtable hosted by CIFAR at the request of Canada's chief science adviser

 

Lord Clement-Jones used the rapid evidence review as supporting evidence for an oral question in the House of Lords, 6 May 2020

Imogen Parker and Carly Kind were invited to attend a CDEI roundtable with representatives from the Turing and NHSX, to advise on the future of app

 

The Ada Lovelace Institute hosted a roundtable under Chatham House rules to convene senior public health, technology, academics and civil society organisations, to discuss technologies in development to support the easing of lockdown measures

Four organisations made approaches to constitute GATE, the multidisciplinary Group of Advisors on Technology in Emergencies (GATE) proposed in the rapid evidence review, to act as gatekeepers of the deployment of technologies in support of a transition strategy

 

Reema Patel formally presented the emerging findings from COVID-19 online deliberation to two meetings – the Silver Data COVID19 network (T2) convened by Government, and the Scottish government's expert advisory group on engagement and participation in COVID-19, convened by DemSoc and Involve.

 
Media coverage
Related content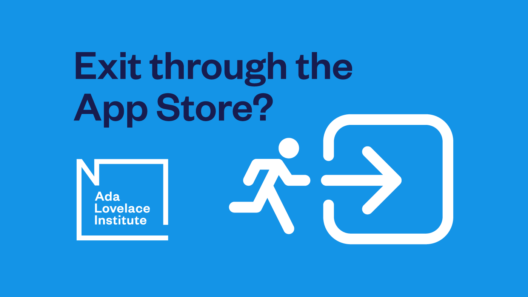 Evidence review
A rapid evidence review of the technical considerations and societal implications of using technology to transition from the first COVID-19 lockdown