Skip to content
Data for the public good
Restoring public trust and maximising the collective benefits of effective, responsible and trustworthy use of data for the public good
The effective use of data (and data-driven technologies) can make a significant contribution to society – it can help save lives, make vital public services more efficient and effective, and enable social connections across fragmented, globalised populations.
Yet data is predominantly treated as exclusive, hoarded and siloed by organisations, monetised for private profit, often in ways that inhibit research and development for public benefit.
Exploitative data practices that are designed to maximise profit over collective benefit, a practice that has been described as 'surveillance capitalism', are justified by claims that the gains from data use will 'trickle down' to broader society – and that the market, left to its own devices, will realise the benefits of data for all.
Experience and evidence has demonstrated that the opposite is true, and people and societies have been left to deal with the 'externalities' of many kinds of data misuse, from infringements of privacy, to repercussions for human rights and democratic norms. Individuals currently lack agency over how their data is used, and there are significant power imbalances between people and corporations.
Political and administrative institutions globally have struggled to govern data in a holistic way that acknowledges its central role in the modern world. The concentration of power in the digital domain reinforce 'enclosure-based' models of data use, and this monopolisation of data impedes competition in current and future digital markets.
The result has been an erosion public trust in the use of data, undermining further the potential collective benefit that could be extracted through responsible, trustworthy data stewardship in the public interest.
At Ada, we see data as a common resource that everyone has a stake in, and – for this reason – we believe the interests of people should be placed at the heart of every conversation.
Our work on data for the public good aims to:
Make the case for the societal value of data: To make the case for data having societal value, we need to enable both its protection and its liberation, preventing data injustice and infringements of core human rights such as privacy, on the one hand, and tackling concentration, extraction and protectionism of data, on the other.
Tackle asymmetries of power and data injustice: We need to empower communities and individuals with effective legal and technical tools and a clear language to talk about data rights.
Promote and enable participatory data governance: We need to strengthen the trustworthiness of all institutions that use, manage and steward data. Data governance must include individuals and groups who generate data – but also extend to the interests of a wider group of beneficiaries, including future citizens. Ethical, responsible practices in data collection, access and use must be put in place, and all organisations dealing with data must commit to a governance role that cares for communities and individuals.
Make the case for data infrastructure that enables purpose-driven innovation: It is important to develop a data infrastructure that enables purpose-driven innovation – one in which private and public actors can be encouraged to make the best possible use of data.
Develop and advocate for data rights and regulation: It is vital that regulators and lawmaking bodies act promptly, ensuring that laws keep pace with technological developments, and that legitimacy, democratic oversight and trustworthiness stand at the heart of how data is governed and regulated.
We are interested in understanding how different categories of data, such as biometric or health data, should be used and governed in ways that are consistent with public expectations and deserving of public trust, and in interrogating how those categorisations blur in an increasingly datafied world.
We want to interrogate how new technical and legal infrastructures and frameworks can be developed to break the constraints of the current data economy. We are dedicated to developing visions of the future that can guide companies, researchers and governments in updating their ways of thinking about data, such that protecting and promoting individual data rights is viewed as essential to building public trust in the use of data for the collective public good.
Related events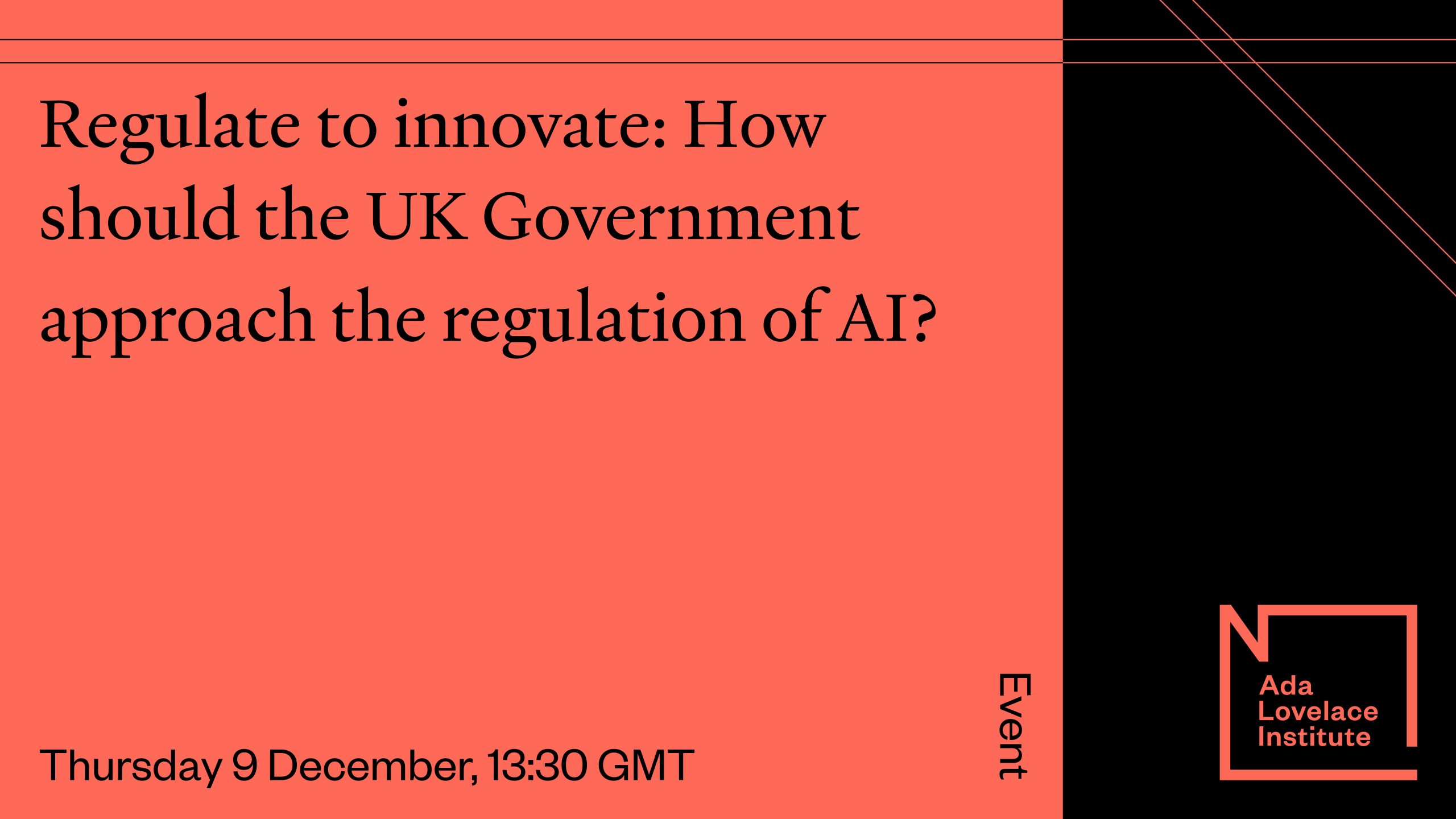 Event
How should the UK Government approach the regulation of AI?
Event
Exploring the foundational premises for delivering 'world-leading data protection standards' that benefit people and achieve societal goals