Skip to content
Job
Visiting Senior Researcher (Algorithmic auditing)
The Ada Lovelace Institute is a hiring a Visiting Senior Researcher to undertake a series of projects exploring AI auditing practices.
Reading time: 6 minutes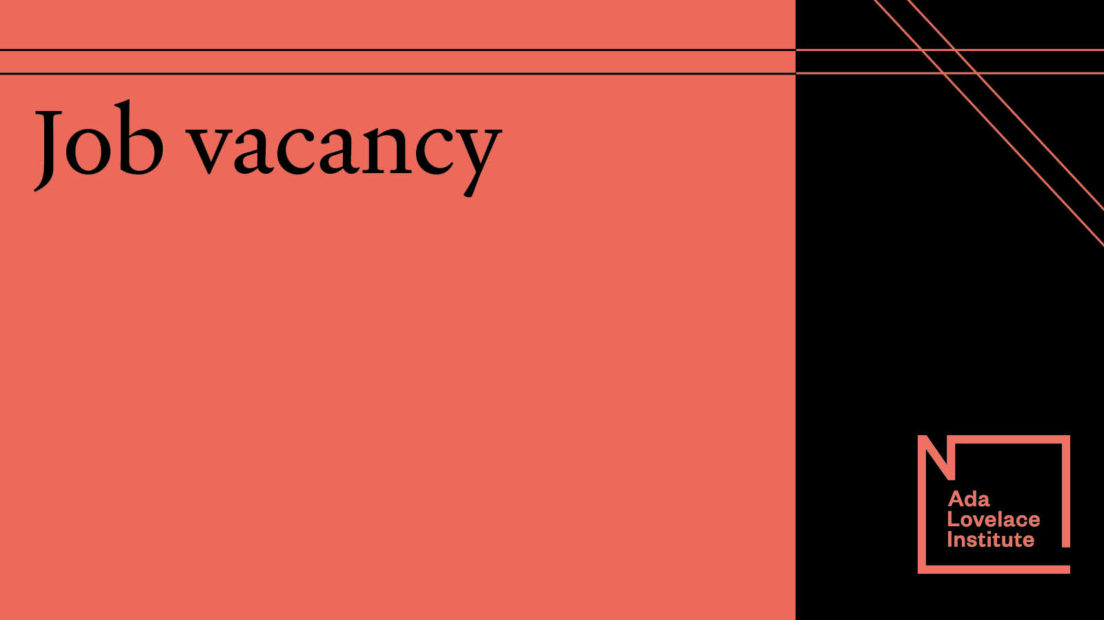 Salary: Starting from £43,000 per annum (dependent on experience).
Hours: 35 hours per week. Flexible/reduced hours can be considered.
Contract: 24 months fixed-term contract. Secondment arrangements can be considered.
Location: Our offices are in London (Farringdon), with the ability to work from home for part of the week.
Our benefits package includes:
28 days holiday per annum and all public holidays (with the option to buy or sell up to 5 days)
pension scheme that offers employer contributions of up to 11%.
life assurance scheme
family leave policies that provide an enhanced level of pay
cycle to work scheme and loans towards season tickets
opportunities for learning and development
wellbeing support including an employee assistance provider.
Closing:  09:30 GMT, Thursday 1st December 2022
Job description
The Ada Lovelace Institute (Ada) is a hiring a Visiting Senior Researcher to undertake a series of projects exploring AI auditing practices as a method for assessing and inspecting algorithmic systems and their impacts on people and society. This role is an excellent opportunity to undertake a project that will explore practical on-the-ground experience of AI auditing, and produce a series of projects that will feed into contemporary AI legislative and policy debates.
The role
This role sits within Ada's Industry and Emerging Technology Research Directorate. Alongside 5-6 other team members, this directorate undertakes research exploring the societal implications of emerging technologies and what steps developers of these technologies can take to address them. Ethics & Accountability in Practice Programme is a research team sitting within this directorate that develops methods for AI and data practitioners and regulators to evaluate and assess potential risks, harms and impacts of AI and data-driven technologies. This role will report directly to the Senior Researcher for the Ethics & Accountability in Practice Programme.
This role will be responsible for delivering three primary projects:
Developing a series of case studies exploring methods for AI auditing in online safety contexts
Developing a report outlining legal and ethical challenges in AI auditing, including how these can be addressed
Developing a report exploring how the UK and other countries can develop a 'marketplace' of AI auditors
This role with work on these projects with the support of the Senior Researcher and wider Ada functions, including our Comms, Operations, and Policy & Public Affairs teams. This role may also advise and contribute from time-to-time on other projects within the Industry and Emerging Technology Research Directorate.
What is expected of applicants in this role
In addition to these outputs, this role will be responsible for communication strategies for outputs, and conceptualising, facilitating and attending meetings, workshops and events with a view to achieving strategic impact with key stakeholders.
Successful applicants should expect to work closely on this project with the wider Ethics & Accountability in Practice programme team (2-3 individuals). To date, Ada's methodologies include the use of working groups and expert convenings, public deliberation initiatives, desk-based research and synthesis, policy and legal analysis and translation, and ethnographic research. We welcome new kinds of expertise and methodologies into our team, and for this role we are hoping to attract candidates with a background in data science and/or computer science.
For further information about the role, please click here to download the full job description.
About you
You are a researcher or professional who may have a background researching for a policy department or a regulator, a technology company, research institute, charity or academic organisation. You are curious and passionate about the issues which arise at the intersection of technology and society, and are committed to bringing an interdisciplinary and intersectional lens to understanding them. Importantly, you'll be comfortable taking initiative, working independently and to short deadlines at times.
You'll enjoy working in a team environment, willing to jump into projects and keen to explore areas of policy, technology and practice that you don't already understand. You'll appreciate the importance of high standards of rigour in research, but also want to think creatively about communicating and influencing in novel ways.
How to apply
The application process will be on the Applied platform and will entail:
Completing 4-5 questions (approximately 250-word answers each) about your background, skills, and interest in this role
Uploading an up-to-date copy of your CV.
We use the Applied platform to reduce potential cognitive biases in our hiring process. Answers on the Applied platform are randomised and anonymised. The Applied platform lets you save an application and resume it ahead of submitting before the application deadline.
After the deadline closes, we will shortlist candidates and update you on whether your application was successful. Applicants moved to the interview stage will be given at least one week to respond to a pre-interview question, which may involve preparing a presentation or completing a writing exercise.  Applicants moved to the interview stage should expect:
To receive at least one week to respond to a pre-interview question, which may involve preparing a presentation or completing a writing exercise.
To undergo one 60-minute interview with Ada staff and an external interviewer, with the potential for a second round of interviews.
We strongly encourage applicants from backgrounds that are underrepresented in the research, policy and technology sectors (for example those from a marginalised community, those who did not go to university or had free school meals as a child). We are committed to tackling societal injustice and inequality through our work, and believe that all kinds of experiences and backgrounds can contribute to this mission.
A day in the life of an Ada Researcher
You will start your day whenever you like – most of the team are online by 9.30am, but some prefer to start early and finish early, or have a later day. We do not believe in strict adherence to working hours and prioritise productivity over clock-watching. We generally start the day by checking in on Microsoft Teams and letting our colleagues know what the day ahead holds.
Every day will be different, and you will probably spend about half of your day in meetings or on calls – doing outreach and sharing information with stakeholders such as DCMS, peer organisations like Algorithm Watch, or academics and researchers; coordinating external consultants, commissioned researchers or working groups; interviewing data scientists or policy people for research, or speaking to the occasional journalist.
You will find team updates and chats on our Teams Channels, and meeting notes and how-to guides in our Notion page. Depending on the day, you might join a team-wide meeting to hear project updates or discuss organisational policies. Also depending on the day, you might have a regular 1:1 meeting with your manager to check in on your wellbeing, raise any challenges or obstacles with your project, and discuss career advancement and growth opportunities. You'll have regular interactions with our Communications team, keeping them abreast of work underway, collaborating on influencing strategy for a forthcoming output, or working together on an output.
The other half of your day you'll spend reading and writing. It might be that you're undertaking in-depth research on a topic, co-facilitating a public deliberation on acceptable use of data, editing a draft, or undertaking some responsive commentary. You might have projects that are highly outward-facing, convening experts around project, or you might have a week offline to write a report. You'll spend some time reading recent news articles, dipping into Twitter and catching up on important policy literature and commentary in our field.
You might wrap up the day by doing some thinking about new initiatives Ada should engage with, new projects Ada should conceive, or some writing based on your findings that week.