Skip to content
Job
Senior Researcher (Public sector use of data and algorithms)
The Ada Lovelace Institute is hiring a Senior Researcher to lead a substantive research programme at Ada: public sector data and algorithms.
8 March 2022
Reading time: 3 minutes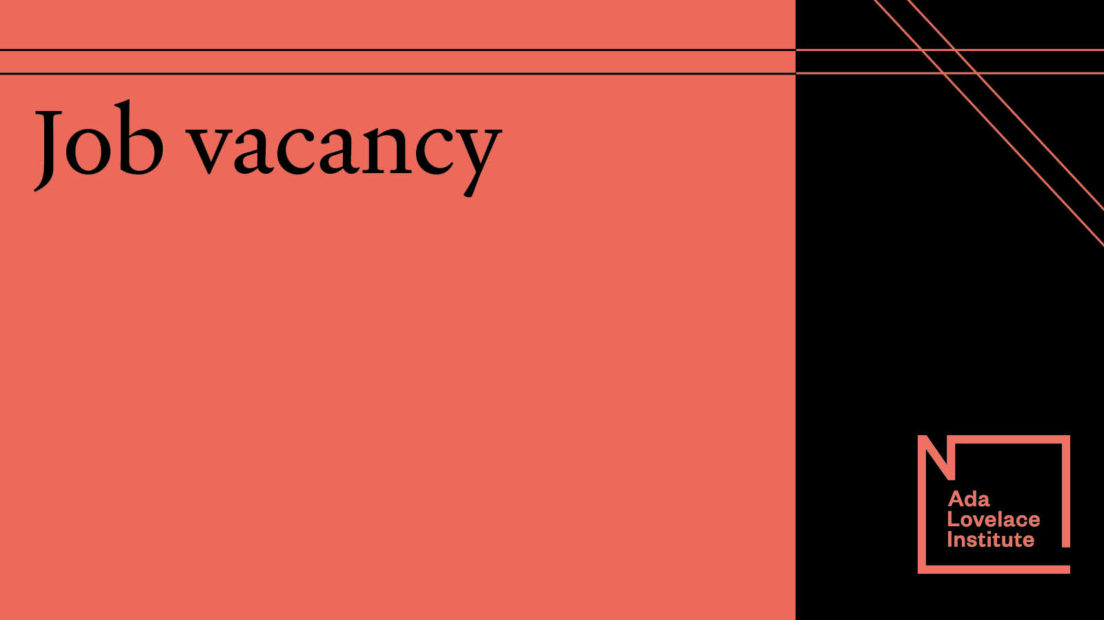 Salary: Starting from £43,000 – £47,000 pa based on experience.
Hours: Full time (35 hours), reduced hours considered.
Contract: Permanent.
Location: Our offices are in London (Farringdon), with the ability to work from home for part of the week
Job description
The Ada Lovelace Institute (Ada) is hiring a Senior Researcher, to lead a substantive research programme at Ada: public sector data and algorithms. This is a major programme for the organisation, considering the increasing use of algorithmic decision making by government departments, local authorities and public services.
The role
The role of Senior Researcher provides an excellent opportunity for a mid-career researcher to craft and execute a research agenda in a dynamic and energetic policy-facing organisation.
This is a new position created as part of our strategy which organises the research under five programmatic priorities: the future of regulation; ethics in practice; public sector algorithms; biometrics; and health and covid. The primary responsibilities will be to develop and execute Ada's strategy for the Public Sector Data and Algorithms. This will include defining a research agenda (bringing together existing major projects including an ethnographic study of local authority use of predictive analytics, as well as policy-focused research on transparency registers in partnership with the Central Digital and Data Office) and communications strategies for outputs, and conceptualising, facilitating and attending meetings, workshops and events with a view to achieving strategic impact.
The Senior Researcher will work closely in particular with the Senior Researcher for Ethics in practice who is leading work which cross-cuts this theme on algorithmic accountability and audit as well as drawing on research from across the organisation.
Ada's methodologies include the use of working groups and expert convenings, public deliberation initiatives, desk-based research and synthesis, policy and legal analysis and translation, and ethnographic research. We welcome new kinds of expertise and methodologies into our team. We prioritise outputs that are aimed at engaging different publics and do not generally produce academic publications so the researcher will need to marry technical credibility with compelling framing arguments. Senior Researchers will provide leadership on their assigned substantive domains and subject areas. The Senior Researcher is expected to produce and execute a novel, achievable, and high-impact research agenda.
About you
You may have a background researching for an academic organisation, policy department or a regulator, a tech company, research institute or charity. You may have a university degree, or have gained experience from an apprenticeship or trainee programme at a research, policy, private-sector or civil-society. You are curious and passionate about the issues which arise at the intersection of technology and society, and committed to bringing an interdisciplinary and intersectional lens to understanding them. Importantly, you'll be comfortable taking initiative, working independently and to short deadlines at times. You'll enjoy working in a team environment, willing to jump in to projects and keen to explore areas of policy, technology and practice that you don't already understand. You'll appreciate the importance of exceptionally high standards of rigour in research, but also want to think creatively about communicating and influencing in novel ways.
How to apply
To apply, please forward a copy of your CV to our recruitment partner Data analytics (ada@datatech.org.uk) demonstrating how you meet the requirements of the role.
We strongly encourage applicants from backgrounds that are underrepresented in the research, policy and technology sectors (for example those from a marginalised community, those who did not go to university or had free school meals as a child). We are committed to tackling societal injustice and inequality through our work, and believe that all kinds of experiences and backgrounds can contribute to this mission.