Skip to content
Job
Senior Researcher (Health and COVID-19 technologies) – maternity leave cover
We are hiring a Senior Researcher to provide managerial oversight over two projects and deliver a project in partnership with the Health Foundation.
28 April 2022
Reading time: 4 minutes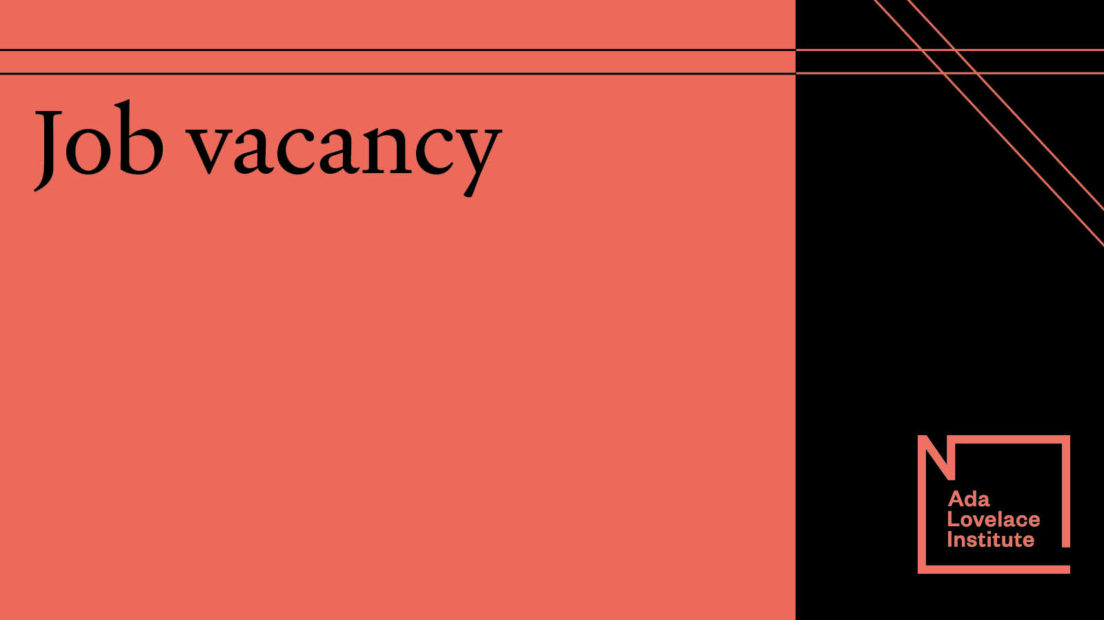 Salary: Starting from £43,000 – £47,000 pa based on experience.
Hours: Full time (35 hours), reduced hours considered.
Contract: 18 month contract (maternity leave cover).
Location: Our offices are in London (Farringdon), with the ability to work from home for part of the week
Closing: 9:00am, 24 May 2022 BST
Job description
The Ada Lovelace Institute (Ada) is hiring a Senior Researcher to provide managerial oversight over two programmatic projects on genomics and COVID technologies and deliver a project on health inequalities in partnership with the Health Foundation. This role will provide maternity leave cover for our Senior Researcher and will involve strategic oversight of our programme of work around Health data and COVID-19 technologies.
The role
Ada's programme on Health data and COVID-19 technologies has focused on researching the datafication of health and the increasing use of data-driven technologies in the health and social-care system, accelerated by the COVID-19 pandemic. We work in a responsive way to track the rollout of data-driven systems in response to the current pandemic, assessing and documenting their long-term legacy. We aim to understand the short- and long-term impacts of COVID-19 technologies on the healthcare system, patients and on inequalities.  More detail on this programme's activities can be found here.
The programme has grown into a team of three core staff, with one Senior Researcher responsible for the Health Foundation project and overseeing a Visiting Senior Researcher on COVID technologies and a researcher working on project on AI and genomics futures. With our Senior Researcher going on maternity leave, we are looking for an experienced mid-career researcher to oversee this programme and some research activities.
This role is responsible for:
Providing managerial oversight of Health and COVID 19 programme projects. This will include regular 1:1 meetings with research staff, reviewing research outputs, providing overall direction and guidance on their research strategy, and supporting their career growth.
Health Foundation project on Health Inequalities. This 2-year project will complete in March 2023, and will feature an array of modular outputs. While about half of the project activities are already underway, this project will require an experienced researcher with knowledge, interest, and experience in understanding health inequalities to see it through to completion with the rest of the project team. Specific activities include:

Conducting interviews with key stakeholders involved in the design, development and implementation of data-driven health technologies
Writing, editing and overseeing the production of reports and other outputs from the project, including synthesis activities
Providing research support, including holding regular project and stakeholder meetings and synthesising research recommendations from project partners
Working closely with the Health Foundation and the project advisory board to seek feedback, make edits and approve the final outputs
Stewarding health programme development. This will include managing Objective and Key Result exercises, holding regular programme meetings, and building a cohesive team dynamic.
Successful applicants will work closely with the Associate Director of Research Partnerships and the Associate Director of Policy to support these responsibilities.
For further information about the role, please click here to download the full job description.
About you
You are an experienced researcher or professional who may have a background researching for an academic organisation, policy department or a regulator, a technology company, research institute or charity. You are curious and passionate about the issues which arise at the intersection of technology and society, and are committed to bringing an interdisciplinary and intersectional lens to understanding them. Importantly, you'll be comfortable taking initiative, working independently and to short deadlines at times.
You'll enjoy working in a team environment, willing to jump into projects and keen to explore areas of policy, technology and practice that you don't already understand. You'll appreciate the importance of high standards of rigour in research, but also want to think creatively about communicating and influencing in novel ways.
How to apply
The closing date for applications is 09:00AM BST on Tuesday 24 May 2022, with interviews expected to take place in the first week of June 2022.
The online application process will ask that you complete 4 questions (no more than 250-word answers for each) relating to your background, skills, and interest in this role, as well as requiring you to upload an up-to-date copy of your CV.  The Applied platform lets you save an application and resume it ahead of submitting before the application deadline.
After the deadline closes, we will shortlist candidates and update you on whether your application was successful. Applicants moved to the interview stage should expect:
We aim to give you at least a week's notice of an interview, which may involve preparing a presentation or completing a writing exercise.
To participate in an hour long interview (with a panel made up of Ada staff and often an external partner. On occasion we may require a follow-up/second round of interviews.
We strongly encourage applicants from backgrounds that are underrepresented in the research, policy and technology sectors (for example those from a marginalised community, those who did not go to university or had free school meals as a child). We are committed to tackling societal injustice and inequality through our work, and believe that all kinds of experiences and backgrounds can contribute to this mission.