Skip to content
Job
Senior Policy Adviser
Ada is hiring a Senior Policy Adviser, which will sit at the intersection of policy research, public policy, law and regulation and public affairs
22 July 2021
Reading time: 6 minutes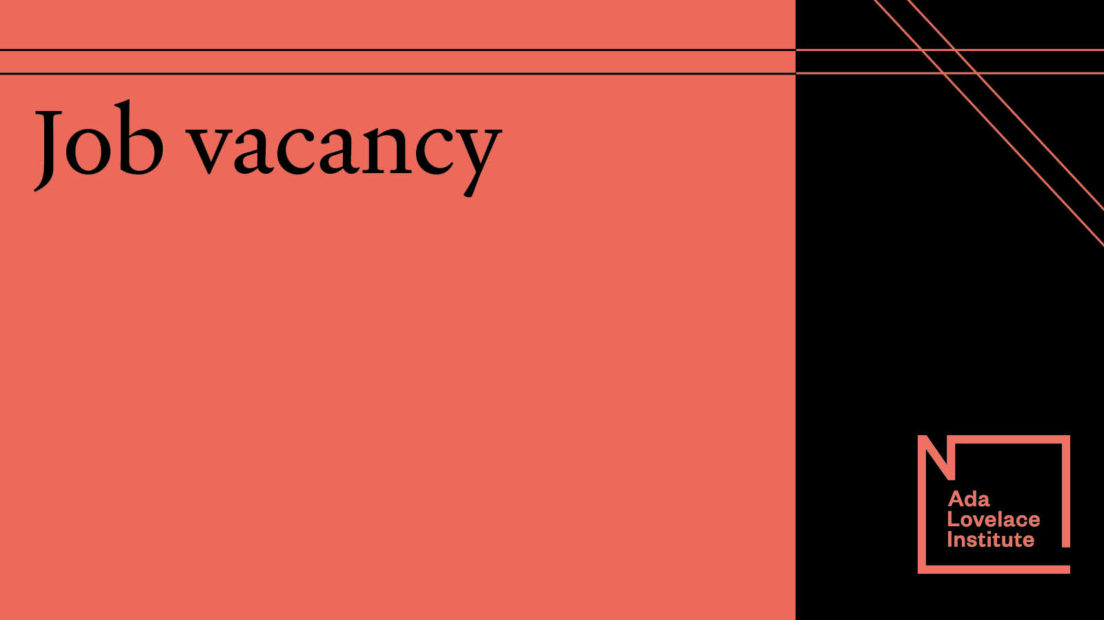 Salary: Starting at £41,000 per annum  (negotiable dependent upon experience).
Hours: 35 hours per week.
Contract: Permanent.
Location: We're London based, and our staff have the option to work part of the week from home.
Closing date: 11:59 BST, Wednesday 4 August 2021.
Job description
The Ada Lovelace Institute (Ada) is hiring a Senior Policy Adviser, which will sit at the intersection of policy research, public policy, law and regulation, and public affairs. This is a unique and exciting opportunity to join and help develop a rapidly growing dynamic and energetic organisation working at the intersection of technology and society on some of the most pressing policy and technical challenges.
The Senior Policy Adviser is a new role for Ada, and the successful candidate will have the opportunity to develop the position in post. The primary purpose is to develop and shape UK Government policy and law related to data and AI, to support Ada's mission to ensure data and AI work for people and society.  The post will be managed by the Associate Director (AD) for Policy, and work closely with the Senior Researchers leading programmes on Ethics and Accountability in Practice, Public Sector Use of Data and AI, and the Future of Regulation, and with our (incoming) Legal Adviser.
This role will have internal and external functions, which might include:
Ongoing engagement with DCMS, CDEI, Cabinet Office, GDS etc.; monitoring major policy interventions (strategies, white papers, bills, manifestos etc.) and briefing the team on key developments .
Working with the AD for Policy to agree strategy on policy interventions (and Ada's role eg influencer, convener, translator, observer).
Leading Ada's work on specific interventions, which might include running events, workshops, policy sprints, drafting commentary or responses, or policy research projects .
Working with AD for Policy and other colleagues to identify interventions, recommendations and opportunities to mobilise Ada's research around current policy priorities.
Some work will include running policy research projects to build evidence to shape policy and law, and the role will have a significant proportion of time kept free for tactical, responsive and cross-cutting work.
Recent examples of projects that would be led by the SPA include:
Partnering with the Open Data Institute, the Royal Statistical Society, the Centre for Public Data and the Institute for Government to convene debates and run high-level workshops on the National Data Strategy leading to co-author a publication and produce a consultation response.
AI Strategy – working with the Office for AI to run two workshops to identify priorities and inform the AI Strategy.
Partnering with the Royal Society to run a roundtable to discuss data lessons learned from the pandemic and co-authoring a report.
Potential forthcoming policy work might include:
Work as the policy counterpart with the Programme Lead, Ethics and Accountability in Practice to influence algorithmic / regulatory inspection in the Online Safety Bill, CAHAI's development of regulatory frameworks, and Digital Services Act .
Ongoing engagement on 10 Priorities (future Digital Strategy) and Digital Attributes Framework, National Health Data Strategy, UK AI Strategy .
Co-run a joint one-day conference with the ICO and British Academy on data sharing in the pandemic.
Working closely with Ada's Legal Adviser and European Public Policy Lead to identify implications for the UK from the draft EU AI Laws.
Working closely with Ada's researcher leading the Rethinking Data Working Group to translate research into tangible policy interventions.
Ada's approach to policy and influencing
In order to ensure that our work informs policy priorities, law and regulation of data and AI, we:
Intervene early and deeply: we are selective and focus on engagement early in policy development, which draws on extensive research, legal analysis or deliberation.
Work in partnership: we develop relationships with decision-makers and sectoral partners to shape development and practice on the ground.
Bring sociotechnical and public perspectives: we draw on multiple disciplines and perspectives to ensure the policy and regulatory development is informed by a range of evidence, approaches and affected groups.
Build tools and capacity: we acknowledge the novelty and challenge of evolving data and AI tools and support building critical understanding and shared approaches through briefings, tools and frameworks.
About you
You may have a background working in a policy or regulatory setting, or have extensive experience undertaking policy research and analysis and influencing policy and regulation. You are curious and passionate about the issues which arise at the intersection of technology and society, and committed to bring multidisciplinary, sociotechnical and public evidence to bear on policy making. You're excited about the opportunity to work with some autonomy in a fast paced and fast-growing organisation, and both running your own projects as well as working across the researcher-led programmes to articulate policy arguments. You have been following key pieces of policy and regulation evolving around data and AI, and enjoy getting swiftly up to speed on new and evolving issues.
For further information about the role, please click here to download the full job description.
Please note that we also currently recruiting for a European Public Policy Lead, details of which can be found here (nb: the closing date for that role is Tuesday 3 August 2021).
Further information and how to apply
To apply, please click through to beapplied.com where your application will be reviewed blindly to ensure fairness.
The closing date for applications is 11:59 BST on Wednesday 4 August 2021, with interviews taking place via video the following week.
You will be required to complete some questions as part of this application process, and you are also required to upload an up to date copy of your CV. The Applied platform lets you save an application and resume it ahead of submitting before the application deadline.
We strongly encourage applicants from backgrounds that are underrepresented in the research, policy and technology sectors (for example those from a marginalised community, who did not go to university or had free school meals as a child). We are committed to tackling societal injustice and inequality through our work, and believe that all kinds of experiences and backgrounds can contribute to this mission.
The Ada Lovelace Institute
The Ada Lovelace Institute is an independent research institute and deliberative body funded and incubated by the Nuffield Foundation in 2018. Our mission is to ensure data and artificial intelligence work for people and society. We do this by building evidence and fostering rigorous debate on how data and AI affect people and society.  We recognise the power asymmetries that exist in ethical and legal debates around the development of data-driven technologies and seek to level those asymmetries by convening diverse voices and creating a shared understanding of the ethical issues arising from data and AI. Finally, we seek to define and inform good practice in the design and deployment of AI technologies.
After little more than a year of operation, the Institute has emerged as a leading independent voice on the ethical and societal impacts of data and AI. We have built relationships in the public, private and civil society sectors in the UK and internationally. Some of our most impactful work to date includes our rapid evidence review on contact tracing apps, Exit Through the App Store?, and our public attitudes and engagement work on biometrics, including our Beyond Face Value survey and Citizens' Biometrics Council.
We aim to be a collaborative, welcome and informal place to work. Before COVID-19 the team worked flexibly, with some working from home regularly or on an ad hoc basis. We now operate fully remotely, using collaborative working tools such as Microsoft Teams with regular video calls).