Skip to content
Job
Researcher (Public Participation & Research)
We are looking for a Researcher to ensure public perspectives and attitudes influence and inform issues of technology policy and practice
20 September 2022
Reading time: 4 minutes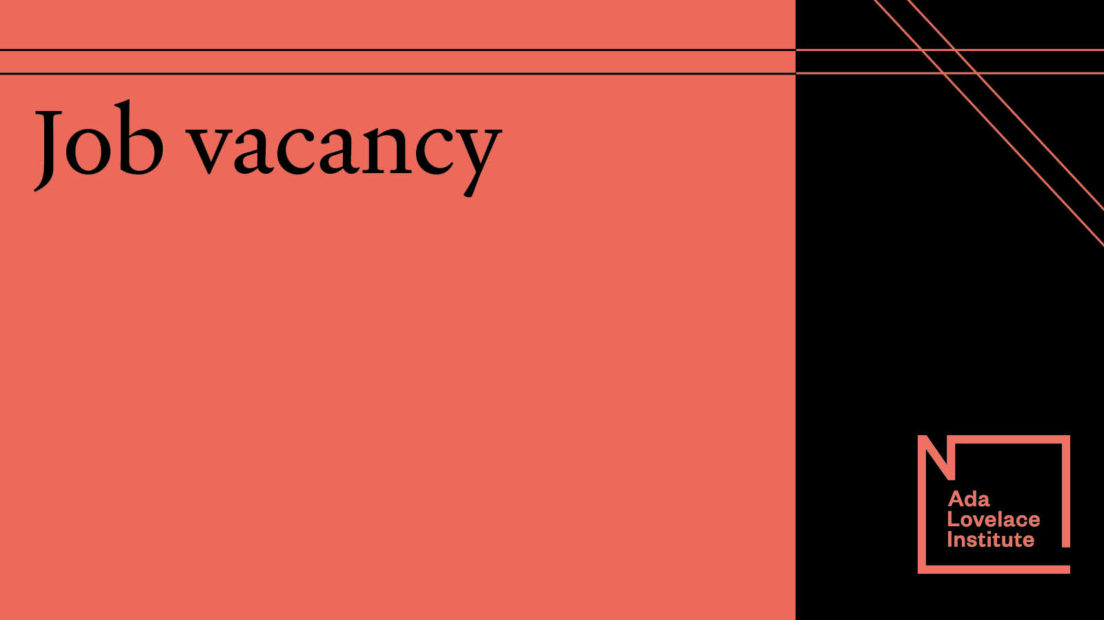 Salary: Starting from £35-£37,000 per annum (negotiable depending on experience).
Hours: 35 hours per week – part-time considered.
Contract: Permanent.
Our benefits package includes:
28 days holiday per annum and all public holidays (with the option to buy or sell up to 5 days).
Pension scheme that offers employer contributions of up to 11%.
Life assurance scheme.
We offer family leave policies that provide an enhanced level of pay
Cycle to work scheme and loans towards season tickets.
Opportunities for learning and development
Wellbeing support including an employee assistance provider.
Location: Our offices are in London (Farringdon), with the ability to work from home for part of the week
Closing: 9:30am, 10th October 2022 BST
Job description
The role of Researcher in Ada's Public Participation & Research team provides an excellent opportunity for an early-career individual who's interested in using research to ensure public perspectives and attitudes influence and inform issues of technology policy and practice.
The role
The primary responsibility for this role is to support the design, delivery, analysis and reporting of empirical research projects that aim to understand public attitudes towards data and AI. Initial projects will include (but not be limited to):
data analysis and reporting for a major UK-wide survey of attitudes towards AI, conducted in collaboration with Ada's partners
conducting literature reviews and secondary analysis of existing research to support an Ada-led policy and research network focused on public attitudes to data
The Researcher will also be tasked with staying abreast of developments in the field, supporting Ada's wider qualitative, deliberative and quantitative Public Participation & Research work, and communicating about our work to external audiences in writing and in-person.
This role will be part of Ada's Public Participation & Research team, which works across Ada's research programmes to ensure the experiences and perspectives of those affected by emerging technology are reflected in our work and in discourse about data and AI.
This is a unique and exciting opportunity to join a dynamic and energetic organisation working at the intersection of technology and society on some of the most pressing social policy and technical challenges.
We are also considering recruiting to a Senior Researcher position in our PP&R team in the near future – if you would be interested in this, please email recruitment@nuffieldfoundation.org and we'll notify you should that go live.
About you
You will have experience conducting quantitative public attitudes research to understand public attitudes towards complex societal issues, and knowledge of academic concepts underpinning the relationship between technology and society. This experience and knowledge could come from academic training or professional experience conducting social science research. You may have some qualitative research experience too, but this isn't essential.
You have some professional experience working in public attitudes research in an academic organisation, business, civil society research institute, government department or community charity (or similar). You may have a university degree, or have gained experience from an apprenticeship or trainee programme at a research, policy or other civil-society organisation. You are curious and passionate about the issues which arise at the intersection of technology and society, and committed to bringing an interdisciplinary and intersectional lens to understanding them.
You'll enjoy working in a team environment, willing to jump into projects and keen to explore areas of policy, technology and practice that you don't already understand. You'll appreciate the importance of exceptionally high standards of rigour in research and writing, but also want to think creatively about communicating and influencing in novel ways.
For further information about the role, please download the full job description.
How to apply
To apply, please click through to beapplied.com where you will be required to complete some questions as part of this application process, and you are also required to upload an up-to-date copy of your CV. The Applied platform lets you save an application and resume it ahead of submitting before the application deadline.
The closing date for applications is 09:30am (BST) on Monday 10th October 2022, with interviews scheduled to take place on 20th and 24th October 2022.
Should you need to make an application in a different format or require any adjustments as part of the application process, please get in touch with us: recruitment@nuffieldfoundation.org
We strongly encourage applicants from backgrounds that are underrepresented in the research, policy and technology sectors (for example those from a marginalised community, those who did not go to university or had free school meals as a child). We are committed to tackling societal injustice and inequality through our work, and believe that all kinds of experiences and backgrounds can contribute to this mission.