Skip to content
Job
Public Participation & Research Lead
The Ada Lovelace Institute is hiring a Public Participation & Research Lead
Reading time: 4 minutes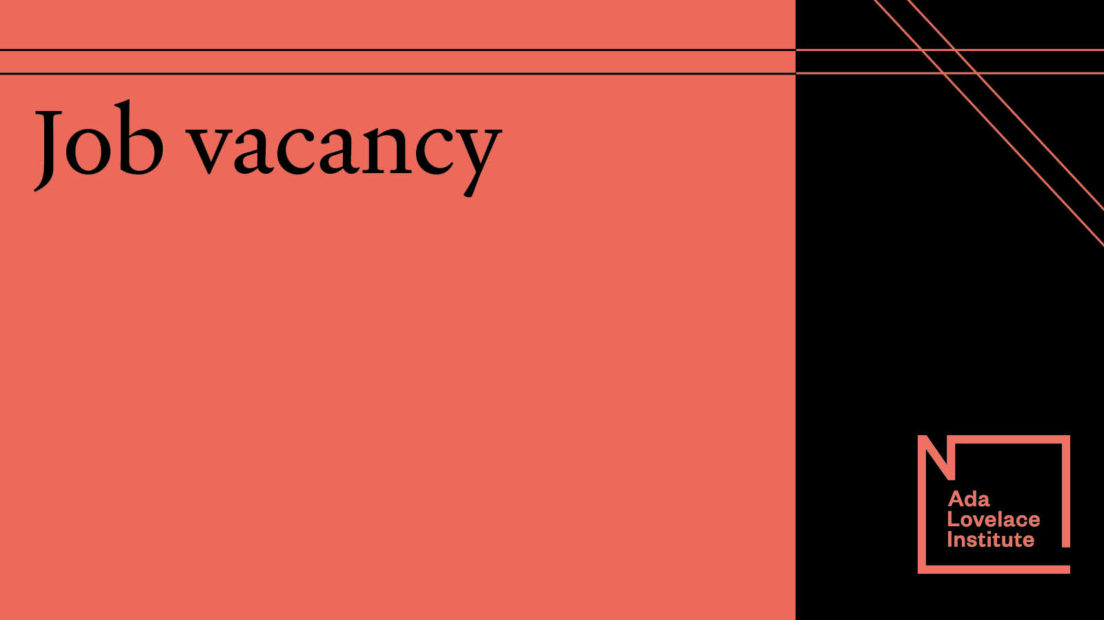 Salary: Starting from circa £48,000 per annum (depending on experience)
Hours: 35 hours per week.
Contract: Permanent.
Location: Our offices are in London (Farringdon), with the ability to work from home for part of the week.
Our benefits package includes:
28 days holiday per annum and all public holidays (with the option to buy or sell up to 5 days)
pension scheme that offers employer contributions of up to 11%.
life assurance scheme
family leave policies that provide an enhanced level of pay
cycle to work scheme and loans towards season tickets
opportunities for learning and development
wellbeing support including an employee assistance provider.
Closing: 09:30 GMT, Monday 12th December 2022.
Job description
The Ada Lovelace Institute (Ada) is hiring a Public Participation & Research Lead to develop, deliver and oversee Ada's public participation & research (PPR) projects, team and strategy. This role is an excellent opportunity for a mid-career researcher with expertise in designing and managing research projects at the intersection of people, society and technology.
The role
The role sits within Ada's Impact and Research Practice Directorate, with connections across all Ada's research directorates and activities. Given Ada's mission to ensure data and AI work for people and society, and our strategic goal to amplify the voice of the public, Ada's PPR work exists to ensure public perspectives and experiences are embedded in our research and in wider debates about technology policy and practice.
Past projects that Ada's PPR team have led include the Citizens' Biometrics Council, a survey on the health data divide, citizens' juries on the governance of data during pandemics, and a literature review of public attitudes towards data regulation in the UK. Current projects include a major survey of UK public attitudes towards AI and a participatory ethnographic approach to digital health inequalities. Future projects will be conceptualised and delivered by the incoming PPR Lead.
This role's primary responsibilities include:
Leading PPR at the Ada Lovelace Institute by designing, delivering and overseeing rigorous and innovative PPR practices and projects. This will include methods such as: deliberative dialogue; participatory and peer-led research; surveys and polls; qualitative social science approaches (and others, depending on the PPR Lead's methodological expertise).
Acting as a figurehead for PPR at Ada, providing thought leadership, subject knowledge and methods expertise internally at Ada and externally across relevant research, policy and industry networks.
Delivering projects through a combination of conducting research in-house at Ada, and commissioning and managing external partnerships (for example with polling or public dialogue agencies).
Drafting and editing research outputs, such as reports, papers and articles, based on empirical work conducted at Ada.
This role will line manage at least one Researcher, and work with wider Ada functions, including our Comms, Operations,  Policy and Public Affairs teams. This role may also advise and contribute from time-to-time on other projects within Ada's three research directorates.
In addition, this role will be responsible for communication strategies for outputs, and conceptualising, facilitating and attending meetings, workshops and events with a view to achieving strategic impact with key stakeholders.
About you
You are a researcher with knowledge about the relationships between people, society and technology, and experience leading projects in a professional or academic setting that build understanding of public perspectives towards technology. Your experience may come from working within a social research agency, policy department or a regulator, a technology company, research institute, charity or academic organisation.
You are curious and passionate about the issues which arise at the intersection of technology and society, and are committed to bringing an interdisciplinary and intersectional lens to understanding them. Importantly, you'll be comfortable taking the initiative, working independently and responsively, to short deadlines, at times.
You'll enjoy working in a team environment, willing to jump into projects and keen to explore areas of policy, technology and practice that you don't already understand. You'll appreciate the importance of high standards of rigour in research, but also want to think creatively about communicating and influencing in novel ways.
For further information about the role, please  click here to download the full job description. 
How to apply
The application process will be on the Applied platform and will entail:
Completing 4-5 questions (approximately 250-word answers each) about your background, skills, and interest in this role
Uploading an up-to-date copy of your CV.
We use the Applied platform to reduce potential cognitive biases in our hiring process. Answers on the Applied platform are randomised and anonymised. The Applied platform lets you save an application and resume it ahead of submitting before the application deadline.
Should you need to make an application in a different format or require any adjustments as part of the application process, please get in touch with us: recruitment@nuffieldfoundation.org
We strongly encourage applicants from backgrounds that are underrepresented in the research, policy and technology sectors (for example those from a marginalised community, those who did not go to university or had free school meals as a child). We are committed to tackling societal injustice and inequality through our work, and believe that all kinds of experiences and backgrounds can contribute to this mission.